It's the 21st century, and that means no woman should have to decide between her craft and her career.

A flawless story was published today by one The New York Post, in which Liz Pressman, 58, who now works as a news librarian at the Post, details her experience being fired from a temp job in the 90s for expressing to her coworkers that sometimes she engages in witchcraft. Yet another pitfall of the gig economy.
In 1997, Pressman had informed HR at her former job that she is a witch (specifically, a Wiccan high priestess) because a colleague had complained about her wearing a goddess pendant around the office. Why anyone would complain of such a thing in the first place, the devil only knows. HR informed Pressman shortly after that she was being let go.
Pressman writes for the Post that she has chosen to tell her story now, nearly two decades later, due to the recent mainstreaming of witchcraft, which is no longer restricted to the corporate-sponsored candy and alcohol binge known as Halloween. (Though for Pressman it's anything but a fad, she was initiated at just 16 years old.) Some adults, however, remain reluctant to welcome this magical trend into their hearts, as Pressman notes:
"I've grown used to moms on the subway pulling their children away when they try and pet the velvet cloak I often wear to my job…. Kids seem to know witches are safe and cool. They feel our loving energies."
G/O Media may get a commission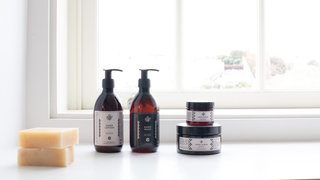 Exfoliate and Hydrate
The Handmade Soap Company
Those kids' instincts are sharp, because Pressman, by her own admission, only uses her powers for good, like defending her First Amendment rights and talking to dead people. And, of course, inspiring the best Halloween costume idea the world has ever known: news librarian at the New York Post.