Nicki Minaj was in the front row at Prabal Gurung's show this weekend. I am generally terrible at recognizing celebrities in real life — unless they're Fran Lebowitz — but I have to admit this was a pretty extreme boldfacefail. I mean, she's Nicki Minaj. And she's wearing a pink bow that looks like a halo.

Grace Coddington in a Prada banana print top.

The evening gowns were pretty much show-stopping. Can someone make Meryl Streep wear that purple one on a red carpet sometime this year? Please?

G/O Media may get a commission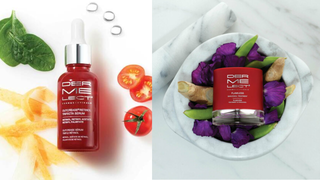 Save $19
Retinol Renewal Kit
But if I had to pick, I'd say the hands-down coolest look was that purple suit. I'm ready for pants that are fitted through the leg, but cut a little lower on the hips; the '70s high waist was fun and all, but the '90s high waist that's been popping up for the past year or so is another beast entirely. Bring on the hipsters. I want hip-slung, Tom-Ford-At-Gucci-fitting pants and I want them now.

The standout color? Purple. Rich and royal.

And the sunglasses were quite impressive.

Not content to play merely with prints, Gurung also showed some pieces that had an interesting engagement with texture. There was a white lace that was so three-dimensional the pieces cut from it looked embossed.

And there were feathers.

And a lot of the ostensible day dresses had daring, near-transparent tulle gores and insertions around the waist and the hem.

Speaking of Tom Ford, that front-lacing black dress worn by Joan Smalls reminded me just ever-so-slightly of the outfits Eugenia Volodina and Carmen Kass wore in the Fall-Winter, 2002, Yves Saint Laurent show. In a good way.

The prints, though. My God, the prints. The fabric looked like it had been marbled.