On Friday, Variety magazine hosted its third annual Power of Women luncheon. There were a lot of tight dresses and unfortunate shoes, but then Annette Benning and Warren Beatty showed up and bested everyone.
It's really hard to avoid looking drab in gray lace, and unfortunately Jeanne Tripplehorn is another example of how someone didn't avoid it. I feel like a more aggressively supportive bra might have given Jeanne a greater boob-to-waist distance, because right now they're total neighbors. Her hair and makeup looks sweet, if not a little boring, but then her shit-kicker stilettos are giving me all sorts of ladyboners.
Ugh. Has Demi Moore ever worn anything interesting on the red carpet? Her hair is always exactly the same—long, loose waves parted down the middle. She's almost always in a form-fitting sheath dress that hits just below the knees. Am I being too harsh? Her red carpet style is such a yawn. Those snakeskin shoes might be her attempt at fierceness, but they don't go at all with the rest of the outfit. The bag's cute, but matchy-matchy is icky-icky.
G/O Media may get a commission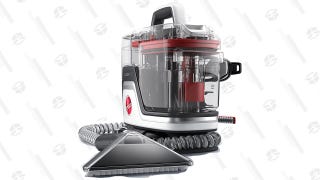 Save $10
Hoover CleanSlate Plus Carpet & Upholstery Cleaner
Speaking of yawns, Eva Longoria and KaDee Strickland couldn't look any more generic. They're basically wearing the same dress, except Eva's is strapless and red, and KaDee's is navy and has clavicle cut-outs. Also Eva is wearing a belt that is an even uglier and shinier red than her dress, and beige pumps. Again with the beige pumps! Beige shoes don't go with everything! This vein in my neck is going to burst! Warren Beatty and Annette Bening, on the other hand, look amazing. Look at how perfectly that pinstripe suit suits him, and I'm crying with love over how brilliant it was on Annette's part to wear brogues with her pantsuit. And they are beige. BEIGE. Beige shoes done right, finally, but with Warren Beatty and Annette Bening, is it any surprise? They might as well walk into these events with a sign over their heads that says, "WE'RE THE BEST."
Bows and studs can be really cute, but somehow, putting them together on a pair of shoes looks horribly clichéd. The dress is your standard okay-looking bandage dress, and the hair and makeup are your standard, okay-looking hair and makeup. Verdict: okay?
I love Mary J. Blige to death. I can even accept that half her face is now bangs and her dress is unoriginal. (Side note: Why did so many ladies come to this power luncheon wearing form-fitting dresses in solid colors? That, to me, is one of the least sartorially powerful silhouettes.) I still love her big-ass earrings, but are those beige t-straps I see? BEIGE? C'mon, Mary. You're making it hard for me to show you some Real Love. Bailee Madison, meanwhile, looks cute as a button, but doesn't her dress look extremely similar to Mary J. Blige's? Change the blue to red, take away the ruching on the skirt, and imagine a woman's rack. Or actually, please don't, because that would be creepy.
I know Lea Michele gets flack for dressing like a middle-aged lounge singer a lot of the time, but I think this dress looks kind of cool. It's structured but still fluid. The shoulders are strong, but with a whiff of Disney princess. The white tones down the THIS IS A FIERCE DRESS quality of ensemble. I like the armor ring paired with her pastel nails, and the blinged-out bag is good, too. I just wish she had done something different with her hair. I think it's supposed to be a loose, low bun, but it just looks like a super flat bob with the kind of bangs you pouf out with a soda can.
Okay, I know Olivia Wilde is supposed to be a mega-babe (her hotness apparently made Megan Fox want to strangle a mountain ox,) but I feel like she just looks generically pretty most of the time, and usually comes to events looking like a woman who isn't intrinsically stylish, trying her best. She looks nice enough here. But the white houndstooth with inexplicable lace down the middle is really unappealing, and her gray pumps are truly hideous. At least her bracelet is cool. It looks like someone shrunk and studded Madonna's cone bras from the 80's and strung them on a chain!
Loretta Devine and Maria Canals-Barrera are both wearing bad prints and unoriginal shoes, but at least they are not wearing BEIGE peep-toe shoes. Ricki Lake looks so sweet and happy, but why do her sheer, black sleeves have flowers from a "Get Well Soon!" card wrapped around them?
I'm real glad Adam Shankman showed up to a power women's lunch in a gray, three-piece suit. The pink gingham button-up is adorable and gives his look some sass. Stacey Snide looks sharp and is probably the most conventionally dressed for a power lunch. I was going to uncontrollably rant about seeing another pair of peep-toe shoes, but upon closer inspection, they are kind of a hybrid of peep-toes and mary-janes, which is cool and unexpected. I don't know who the woman on the left is. Her name is listed as "Lea Michele," which seems vaguely humiliating. All I know is that her pants are hella high waisted and they look like they've got a 20 inch inseam. Big ups to you, incorrectly identified woman! [Update: A reader has identified "Not Lea Michele" as Ana de la Reguera.]