Feeling pretty good about your work-life balance? Aww, how cute. Feel inadequate again with this new pseudo-trend: "mumpreneurs" who go on "power maternity leave" by taking advantage of all that free time a lady has directly before and after she pushes another human body out of her vagina to start their own maternity sportswear lines and vintage-inspired bridal boutiques.
According to Stylist, "Time out after a baby can feel like a step off the career ladder, but a growing number of women are using it to reinvent their work lives....a period away from work can be hugely positive – time to learn a language, take up a hobby or, as more and more women are doing, start a new business."
In other words: You won't be able to handle your pre-baby job responsibilities, because giving birth changes you forever. But instead of caring for your newborn child — which, as we all know, entails nothing more than watching Maury and binge-eating snacks — why not launch a new business that's more mom-appropriate? (Momopriate?)
If you're too emotionally drained from having a baby to put on pants, much less develop a business plan, you're a super dysfunctional outlier, because science tells us that moms are so0o0o0o productive and imaginative that they basically leak out innovation along with breast milk! "Studies show that during pregnancy our brains are more resourceful and creative," psychologist Marisa Peer told Stylist. "The popularly peddled notion of 'baby brain', whereby our minds are like sieves, is a farce. It's mere tiredness. In general, when rested, our brains are sparkier."
Sparkier, she says! So true. Let's face it: if you haven't brainstormed a plan for an international cupcake shoppe chain by the time your newborn is a month old, you're a failure as a mother and as a woman.
G/O Media may get a commission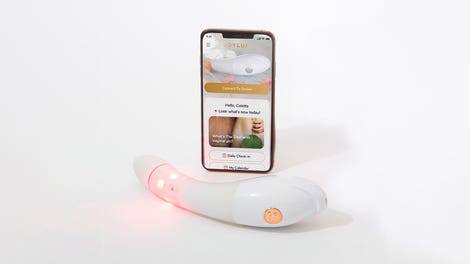 $50 Off
Joylux vFit Gold Device
Stylist profiled four blonde Caucasians to substantiate their "mumpreneur" thesis. Some choice quotes:
Inspiration for Nordic Mama struck while I was pregnant with my second child, Summer [now seven months]. [Ed. note: .......] It sounds strange, but I felt more creative while pregnant. I started doing some sketches and then got someone to do some technical drawings that I could take to a factory. I had so many meetings, I took Summer along in a backpack! [Ed. note: Wait, a backpack?] My pay is down 50%, but the business is in its infancy. I'm thrilled that it's enabled me to watch my babies grow up. I'm now pregnant with my third and I can't wait to see what the future holds."
— Amanda Sharkey, 35, founded an outdoor maternity sports range.
I wanted to inspire my unborn child, rather than be away from her all day. Before I got married I had been disappointed with the wedding dresses on offer. So I found a business plan template on the internet and wrote a 10,000 word plan for a wedding boutique when Jessica [now four] was sleeping. We opened The White Closet in November 2009. At first, juggling a newborn and a business was hell. But, it's been the best life decision.
— Nikki Graeme, 32, opened a vintage-inspired bridal boutique.
Of course, Sharkey, Graeme, and the other women profiled in this piece deserve accolades for starting profitable businesses (both women say they're raking in hundreds of thousands of dollars), but the concept of the article — that new mothers are lazy if they don't start their own (and obviously mom-centric) new companies while also raising children — is distressing, to say the least. The article leads with the example of Marissa Mayer, who received intense criticism when she said she planned to take only a few weeks maternity leave: "If, like her, you've spent around a decade climbing up the ladder, forging a career, juggling important projects, managing staff and loving it, then the prospect of months in work wilderness can be a bleak thought. It's not difficult to empathise with her decision." But, if you're actually like Mayer, why would you want to completely drop your former career at the drop of a diaper?
Moreover, having a baby is NOT the same thing as going on vacation. OBVIOUSLY. You're spending all of your time and energy taking care of a little defenseless human who relies on you to eat, poop, and otherwise not die, not chilling at a beach resort in Maui. "Myths swirl that pregnancy makes women want to spend their maternity leave watching Dexter and scoffing Doritos," another "mumpreneur" told Stylist. "But for me, it was the absolute opposite of all that." (She started her own dairy-free yogurt line. Natch.) For most women — who, unlike the moms featured in this story, don't necessarily have the financial means or additional spousal support to launch their own businesses off the ground — it's the absolute opposite of all of that too, just not in the sense she means. It's a massive understatement to say that having and taking care of a baby is hard work, not a hobby.
We're happy that these comfortably well-off women had such professionally inspiring maternity leaves, but it's incredibly misleading and unfortunate to imply that other new mothers are failures if they're unable to channel the energy and resources necessary to start successful new businesses. Plus, if we're going to put additional pressure on women to "have it all," can't we at least call these moms what they are — entrepreneurs — not "mumpreneurs"? For fuck's sake.


Illustration by Jim Cooke