The setting: an apartment in Washington, DC. The scenario: the delivery guy has arrived, takeout tacos in hand. The doorbell: he rings it. The dogs, unaccustomed to such average nonsense, lose their shit. They are Bo and Sunny Obama, and until January 2017, they have never heard a doorbell in their fucking lives. They are DOGS and they are LOSING their SHIT!
On Wednesday night, mondo-bestselling author Michelle Obama vamped her way to a stage with Sarah Jessica Parker, who was tasked with interviewing her on a Brooklyn leg of the Becoming book tour. Obviously, Sarah Jessica was like, "Yo, election day 2016 fucked me up and I couldn't deal. How did you deal, dude?" And FLOTUS was like, "LOL I was on eternal vacation!"
More importantly and relevant to our purpose here, though, Obama just described the weird act of getting used to civilian life, which apparently took its toll most of all not on Malia or Sasha—young women who seem to be deeply well adjusted considering their weird experiences growing up—but on freaking Bo and Sunny, Portuguese water dogs who were like, and I quote, "What's that?" whenever someone came to the door!
In this video, FLOTUS talks about the adjustment to relative normalcy, and the idea of living in "a house" in "a neighborhood." She admits the dogs have had a rough time adjusting: "Even Bo and Sunny are like, 'What's that?' They are now just going to the door. It's taken them two years, like, 'It's the door. People are coming.'" And Bo and Sunny are like, "We didn't grow up with a doorbell." Um, NOT RELATABLE! But cute! So cute.
Additionally, FLOTUS was wearing iridescent sequined rave boots in the club, via Balenciaga. Some shit, you never get used to!

G/O Media may get a commission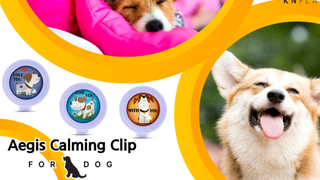 20% off
Aegis Calming Clip for Dogs
[TMZ]