Director Todd Phillips has confirmed that Liam Neeson's cameo in the forthcoming The Hangover: Part II has been cut from the film.
Phillips said he wanted to re-shoot Neeson's scenes, but Liam's schedule "did not permit him to."
Naturally, Phillips' second choice was The Notebook director Nick Cassavetes, who will be making a cameo in Neeson's place, since the two are pretty interchangeable:
"We were in a complete time crunch so I called up Nick and asked if he would do the part. He came in and crushed it and that is the scene that you will ultimately see in the film. [I'm excited for everyone] to see the film. It turned out great."
Other possible reasons for the swap may include:
-Like Neeson, Cassavetes is also a man, which is great because it'll still satisfy people who were expecting to see someone Neeson-like in the film.
-Neeson may have been nominated for an Oscar but I ask you, was he a guest star on both LA Law and Quantum Leap alike? No, no he was not. Point Cassavetes.
-Cassavetes is a "gifted speed reader". Can Neeson say the same? I rest my case.
G/O Media may get a commission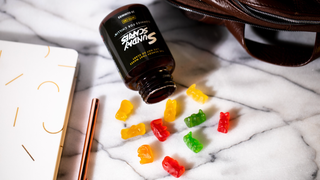 10mg CBD Gummies (22-Count)
Liam Neeson's Cameo Cut From The Hangover Part II [Perez Hilton]