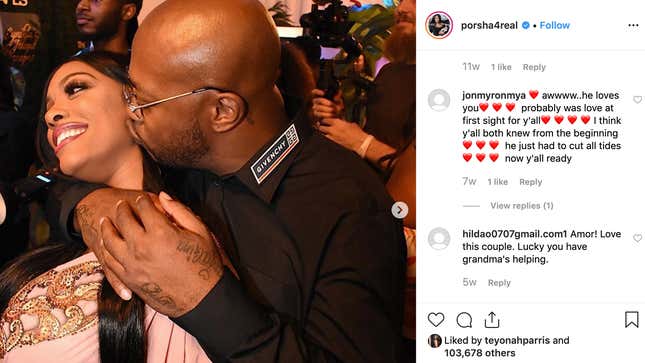 A large and surely insensitive effect of being a rabid reality TV watcher is the instinct to think of people's lives in terms of storylines. This was the case when I received an iPhone news alert confirming (via People) that Porsha Williams was splitting from her fiancé Dennis McKinley. They'd been engaged for eight months and just had a daughter.

McKinley's proposal, as well as Williams's pregnancy announcement, were both part of her storyline on Real Housewives of Atlanta's most recent season: Porsha had a new man, a future, and a baby on the way. I immediately thought of the storyline and texted the breakup news to a friend who's also a faithful viewer.
According to E! News:
Fans began to speculate that something was amiss between the couple when Williams, 37, unfollowed McKinley on Instagram in May. Around the same time, rumors began to circulate that he had cheated on her.


But despite the rumors, Williams, who welcomed her daughter on March 22, re-followed her fiancé and McKinley denied the cheating allegations in an statement to E! News earlier this month.

"These false and slanderous allegations against me are made solely to damage my reputation, jeopardize my ongoing businesses, and negatively impact my family," he said at the time.
(Side note that famous people should either have Finstas or never follow anybody on social media to avoid people tracking unfollowings.)
After a questionable marriage to an archaic dude who made her get permission to do things like go to a strip club, the new storyline was that Williams had found her pot of gold in the form of McKinley, a nice hot dog entrepreneur. The rumor that he'd been dating another woman in Atlanta around the same time as her didn't matter (Kandi speculated about this and apologized for it all in one season), nor did the fact that he had multiple tattoos of other women's names on his body (Kandi speculated about this and apologized for it). Porsha was happy! And happiness is a story.
But then breakup rumors bled into Williams's pregnancy special Real Housewives of Atlanta: Porsha's Having a Baby, which I did not watch because it's a spin-off and I'd rather misuse my time in other ways. Williams announced on the show that their wedding would be postponed because of her pregnancy. And now they're not getting married... Pause to cut to a shot of Kenya Moore in a confessional.