Much like the modeling industry, the porn industry deals with surface, exteriors, looks, bodies. And, as it turns out, like modeling, porn is full of racial inequities.
In March, porn star Aurora Snow told the Daily Beast that "on-camera race relations are a complicated topic" in porn's "fantasyland." The myth is that white women who don't have sex with black men on camera earn more. Snow, who is white, was asked, point blank when she got into the business, whether or not she "did interracial." But some agencies only have a small group of performers willing to do interracial.
And as Keli Goff writes for The Root:
In an age in which multiracial families are among the fastest growing in the nation, it is hard to fathom that there is a national industry, $10 billion strong, in which interracial couplings are considered career suicide. It seems that the historical taboo of black men sleeping with white women is one sexual hang-up that even the porn industry is unwilling to get over.
But! Scenes between white men and black women? Very popular. It's just black men that are somehow considered taboo. (Thai porn star Keni Styles once said that women who have worked with him will tell him they don't do interracial; they don't see working with him as interracial sex — that means black guys.)
Goff reports:
Mark Potok, a senior fellow at the Southern Poverty Law Center, which tracks hate groups, is not particularly surprised that there are those who still frown on sex between black men and white women, telling The Root, "Racism has so much to do with sex, and always has. The first era [Ku Klux] Klan was absolutely obsessed with fear of white women being violated by black men."

When asked about the popularity of other interracial pairings in porn, Potok replied, "It is remarkable how attractive to certain people what looks forbidden is. It is mind-blowing how often we discover the Klan leader with the black transvestite or the neo-Nazi leader with the black girlfriend. It happens very frequently."
G/O Media may get a commission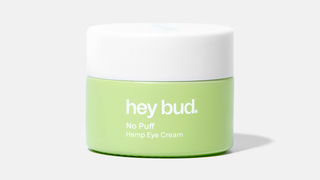 15% off
Hey Bud - No Puff Hemp Eye Cream
Goff interviews black porn performer Misty Stone, who reveals that black women in porn are consistently paid substantially less than white women, no matter the project. And while a white performer can get away with refusing to work with black men, Stone says that as a black woman, "it would not go over well" if she refused to work with a white man.
Goff also talks to Lexington Steele. A former stockbroker, he's one of the most successful black guys in the porn industry — partly because he founded his own company. He tells Goff:
"Quite honestly, adult media is the only major business that allows for the practice of exclusion based upon race."
Sounds like something that's been said about modeling. It's hard not to compare the two, since they're both about fantasies, deal with physical performance, and the participants stand to earn a lot of money. And as long as the folks running both industries have a narrow view of what's desirable, the problem will persist.
Is the Porn Industry Racist? [The Root]
Interracial Sex Still Taboo for Many Porn Stars [Daily Beast]
Image via OLJ Studio/Shutterstock.