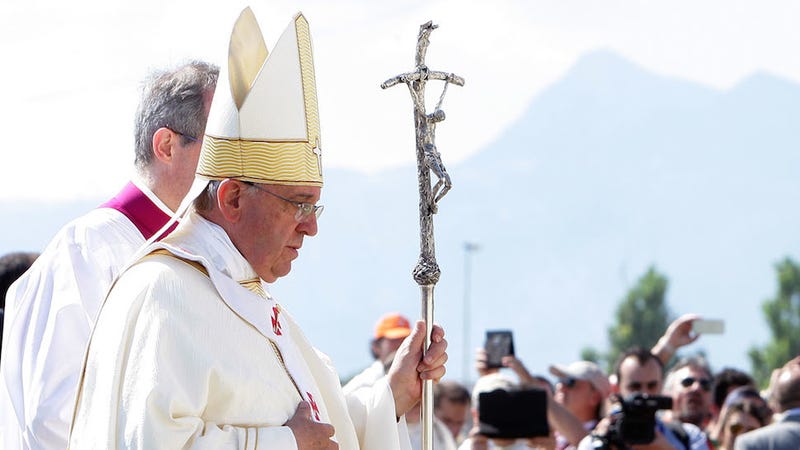 Whoa. Call me Glenn Frey because the heat is ON. Right after rebuffing the bulletproof "glass sardine can" Pope-mobile, Pope Francis traveled to the hub of an Italian crime syndicate and straight up excommunicated members of the Mafia from the Church.
Francis visited Calabria, the headquarters of a global drug trafficking syndicate called 'ndrangheta, and met with the imprisoned father of a 3-year-old who was shot and killed in an alleged hit associated with local drug rivalries. Via CBS:
During his homily at an outdoor Mass, Francis denounced the 'ndrangheta for what he called its "adoration of evil and contempt for the common good."

"Those who go down the evil path, as the Mafiosi do, are not in communion with God. They are excommunicated," he warned.
Previously, Francis had warned Mafia leaders, calling on them to repent, but this is a far more decisive tactic. I mean, who knows what actual difference it will make in terms of actually uprooting an entire syndicate—I mean if anything, the excommunication will have a huge effect on the mob movie genre. (Can you imagine if they took out "Ave Maria"-type songs from all those mobster film scenes with heavy violence and replaced them with something else? Like Switchfoot?)
Still, I think it's safe to say that this Pope is a loose cannon cop who doesn't play by the rules. He's basically the Axel Foley of the Catholic Church.
Image via Getty.