The so-called "poor door" is illegal in New York City, a terrible place where—thanks to 80/20 incentives—rich people paying exorbitant market rates for their newly constructed luxury apartments often have to share the building with a smaller number of not-rich people paying more reasonable prices, and some of the aforementioned rich people may think they're too good to share their goddamn front door. After some controversy, Mayor Bill De Blasio mandated common entrances for mixed-income buildings in 2014, but the building that sparked that controversy (40 Riverside Boulevard for the poors, and One Riverside Park for the rich people), as well as its poor door, was grandfathered in.
The New York Post, chroniclers and originators of the poor door saga, caught up with some 40 Riverside Boulevard residents and the "financial apartheid" they are currently experiencing.
"The thing I don't like most is we don't have the same amenities," said Christina Figueras, 27, a single mother of two.

Though Figueras "feels lucky" to have landed her two-bedroom $1,082-per-month pad after moving from an upper Manhattan housing project, she said cash-poor tenants have no dishwashers, doormen or light fixtures in bedrooms and living rooms.

Renters on the "poor" side — units of which start at $833 for a studio without river views — have access only to a bike-storage closet, an unfinished laundry room and a common space that faces a courtyard they're not allowed to enter.
Their well-heeled neighbors — in 219 river-view condos starting at $1.3 million — have use of two gyms, a pool, a movie theater, a bowling alley, 24/7 doormen and a lavish lobby with a hand-blown glass chandelier.
There are 219 fancy apartments in the building and 55 regular apartments.
Another poor-side tenant griped that the buzzer and intercom aren't working.

"They keep saying they're going to fix it. Every day they say, 'It'll be done today,' but it isn't," said the 44-year-old resident, who wished to remained anonymous for fear of jeopardizing her one-bedroom rental.
G/O Media may get a commission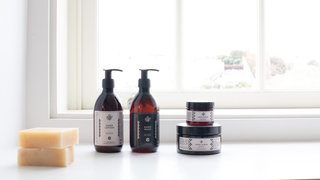 Exfoliate and Hydrate
The Handmade Soap Company
"It's unfortunate to make it into a class warfare," said one rich guy.
Free movie idea: a rom-com about two teenage residents in this fomenting battleground, in which the rich teen's family loses all its money due to some glamorously shitty white-collar bullshit (committed by the teen's mother—it's 2016) and the poor teen's family wins the lotto like It Could Happen to You. The "poor door" will be a vaginal metaphor or possibly an anal one, depending on teen gender. Willow Smith would be in this movie. I'd see it.
---
Contact the author at jia@jezebel.com.
Image via One Riverside Park