Ah, Cannes. What a glamorous dream. So much has happened, and it's only day three—Amal Clooney looked coyly at her husband, Kendall Jenner celebrated her new position as spokesperson for Magnum Double ice cream bars, Woody Allen stood next to a variety of young women who seemed fine with it.
Let's check out some of these red carpet looks:
Let's start with the metallics, because I like shiny things: Bella Hadid, newborn supermodel, is really the living embodiment of Cannes in this geometric Roberto Cavalli gown—very similar to that of Blake Lively, who is somehow pregnant here. Jessica Chastain is in an Alexander McQueen that isn't doing a ton for her perfect body, face, and skin; Naomi Watts looks nice in this lavender column, although I think everyone is taking the "Cannes" idea too far and over-accessorizing re: jewels.
G/O Media may get a commission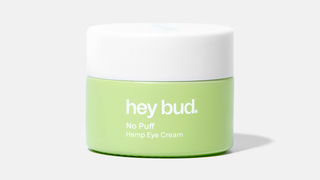 15% off
Hey Bud - No Puff Hemp Eye Cream
Anna Kendrick and Justin Timberlake, seen here at the Cafe Society premiere, look like they absolutely love hanging out with each other and just cannot get enough one-on-one time!!
Some black & white looks—Jane Birkin having a fucking blast and looking cooler than everyone else; I feel like Julianne Moore's Louis Vuitton dress is not doing an enormous amount for her and looks vaguely uncomfortable; Chinese actress Li Bingbing is doing a very classic '90s movie star look here that I enjoy; Victoria Beckham is low-key in a sweetheart-neckline jumpsuit.
French actress Celine Sallette is in a studded Anthony Vaccarello dress that simultaneously looks unflattering and bad and also extremely eye-catching and good. Kendall Jenner is in a floaty Versace and looking very Selena Gomez; Kirsten Dunst is lovely in this floral Gucci, but I do have to note that Kiki is frowning hard in nearly every picture on Getty and I'm wondering if everything's okay? Lily-Rose Depp continues to be the Teen Who Scares Me Most in this sporty Chanel getup; what kind of 16-year-old has the balls to wear sweatshorts to Cannes? Where can you possibly go from here if you are already this cool halfway through high school?
From the left: Dominic West, Caitriona Balfe, Jodie Foster, Jack O'Connell, Julia Roberts, George Clooney and Amal Clooney strike a post at the Money Monster premiere, which is—you guessed it!—another movie about Wall Street.
Thai actress Araya A. Hargate is bringing it all the way in this floofy pink Ralph & Russo gown; Juliette Binoche is like "whatever everyone" in this cool pared-down lady matador ensemble; Russian TV personality Elena Lenina, whose cat is also pink, appears to be modeling the uniform that will be worn by the three-to-five court jesters retained by future U.S. dictator Donald Trump, and also, is that a diamond claw in place of her right hand? Who can say?
Doutzen Kroes looks very simple and cool; Eva Longoria has been wearing some version of this dress for going on 12 years now and I've honestly had enough; French actress Lola Bessis looks great in this Stella McCartney and I like her bangs and lip color; Susan Sarandon is giving us her best self in sensible heels, a Jean Paul Gaultier coat-dress contraption, and sunglasses.
Soko, at a photocall for The Dancer (La Danseuse), looks like a terrifying, wonderful bird in this weird lace thing and sea foam shoes.
Soko's ex Kristen Stewart was there too, and I can't decide how I feel about this Chanel ensemble? I like the seafoam green (oh my god, awkward, seafoam green on both exes, wow, disaster) and the black with her bright blonde hair, but otherwise... no. Nope.
Here is Blake Lively again, reminding us all that she does not have a stylist and does in fact need one. This next dress feels wrong on Caitriona Balfe, she seems...pained; this thing on Lady Victoria Hervey also feels very wrong but in this case its wearer does not seem to notice, proudly flapping her weird cape around the red carpet. And who on earth put Rebecca Hall in this droopy belted horrorshow? The woman deserves better.
We'll end with this lady, whom Getty has named "a guest," because she has two small swans rising out of her boobs and her expression reads, "Yeah, idk. My bad."
Girl, no worries.
---
Images via Getty.