When Patton Oswalt was booked to appear on Late Night with Seth Meyers Wednesday night, he assumed he'd be talking about his new show AP Bio. But when a suspect was arrested in the Golden State Killer/East Area Rapist case—aka one of the most notorious unsolved crimes in this country's history and the subject of his late wife Michelle McNamara's bestselling book—the lead topic quickly changed.
Oswalt, who said he was running on almost no sleep, was quickly asked about McNamara's work. "Not to discredit the work that the police and the lab technicians did, but it was her dream," Oswalt told Meyers. "She always said, 'I don't care about credit. I want to know that's he in jail.' And now he's caught. The bracelets are on, and it feels like this thing that she wanted so badly is now done."
But not everyone thinks McNamara should receive any credit. Like, for example, Sacramento County Sheriff Scott Jones. When asked by reporters whether her work played any role in Wednesday's arrest of Joseph James DeAngelo, Jones said, "That's a question we've gotten from all over the world in the last 24 hours, and the answer is no."
In a tweet, Oswalt expressed his disagreement, writing:
It did, but #MichelleMcNamara didn't care about getting any shine on herself. She cared about the #GoldenStateKiller being behind bars and the victims getting some relief. She was Marge Gunderson in FARGO, not Chilton in SILENCE OF THE LAMBS.
[...]

Also, the cops will NEVER and HAVE NEVER credited a writer or journalist for helping them solve a case. But every time they said #GoldenStateKiller they credited the work of #MichelleMcNamara and #IllBeGoneInTheDark.
G/O Media may get a commission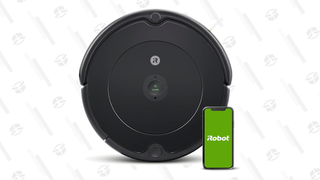 35% Off Black Friday Deal
iRobot Roomba 694 Robot Vacuum
---
In a video posted to her YouTube channel in 2013 and "rediscovered" this week, Allison Mack can be seen showering the group Jness—a women's empowerment arm of alleged sex cult NXIVM—in praise.

She says, in part:
"Working for Jness I think is the most gratifying thing that I've ever done. It's the most challenging thing I've ever done because it consists of working with a group of people in a way that is totally interdependent, meaning we're all working together and no one is ever punished and no one is ever told that they're wrong or they're bad. The most important thing in working on Jness is the relationships in Jness. I would say that working for Jness is the most satisfying and purposeful thing I've ever done. Watching the women who are involved with Jness completely transform and evolve in a way that is so pure is such a privilege."
There's a boatload of repetition here because—in case you forgot—Jness was allegedly part of a cult!
---
There was a cute Instagram photo of Dream Kardashian in this space, but in the minutes between me pasting it here and filing it to be published, the photo was deleted by Blac Chyna. I guess because people are mad at her for putting pink extensions on her?

---