There's been so much justified anger against the coaches and Penn State officials who knew about the sexual abuse allegations against Jerry Sandusky that many non-sports fans who haven't been following the story closely probably think that Joe Paterno is the abuser. Much of the reporting on the story has focused on the beloved head coach's silence, and yesterday Penn State coaching assistant Mike McQueary tried to send the message that he shouldn't be lumped together with Paterno and other school officials. In emails to friends that were released this week, McQueary says that when he saw Sandusky raping a boy in a locker room in 2002, he stopped the abuse and reported it. However, now authorities say that never happened.
McQueary's claim that he "didn't just turn and run" after witnessing the rape never made much sense. He told a grand jury that he "left immediately, distraught," then he called his father for advice and told Paterno the next day. However, in an email to former teammates, McQueary said, "I made sure it stopped. I did the right thing ... you guys know me." Yet another note shows that McQueary may have had a loose definition of "stopping it." While one might imagine that means he intervened and helped the boy, NBC Philadelphia reports that in another email to friends he wrote, "I did stop it, not physically ... but made sure it was stopped when I left that locker room." That could mean anything from pulling a fire alarm to simply suggesting to his bosses that Sandusky shouldn't be left alone with kids.
McQueary also writes that he had "discussions with police and with the official at the university in charge of police." Yet, State College Police Chief Tom King says, "Absolutely not. We don't have any records of him coming to us." Sandusky was accused of child abuse in 1998, but after an investigation authorities chose not to prosecute. (Disturbingly, we may never know exactly why because the D.A. involved has been missing since 2005.) King says that since that incident, they didn't hear anything else about Sandusky until the current investigation began. It's unclear if McQueary could have talked to Penn State campus police, and Pennsylvania State Police won't comment on the investigation because it's ongoing. A representative said of the New York Times report that 10 more victims have come forward, "those numbers are wrong." That could mean that there are no more victims, or 15.
Even if McQueary did speak to another police department, it obviously didn't do much good for the boys Sandusky is accused of sexually assaulting. However, in one of the few bits of encouraging news to come out of this mess, NPR reports that the scandal is inspiring more people who were abused as children to come forward. Due to the sports connection, the story is reaching people who might not have paid attention to the reports of abuse in the Catholic church. One attorney who's been contacted by more than 10 abuse victims in the last week, says:
"What happened at Penn State is further validation ... validation that the victim did nothing wrong, the victim should not feel guilty, the victim should not feel ashamed, the victim should not feel alone."
G/O Media may get a commission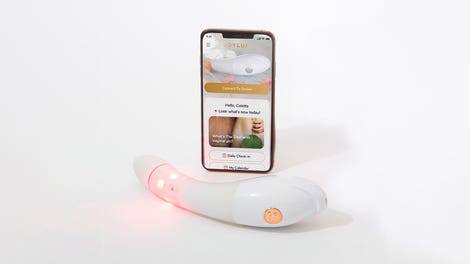 $50 Off
Joylux vFit Gold Device
It's sickening that reports of Sandusky's behavior were ignored for years, but hopefully the publicity surrounding the case now will enable authorities to capture other child predators.
McQueary Told Us Nothing: State College Police [NBC Philadelphia]
DA Who Never Charged Sandusky Has Been Missing Since 2005 [NBC Philadelphia]
Penn State Scandal Emboldens Other Abuse Victims [NPR]