In December, the bodies of four women were found near a stretch of highway on Long Island while police were looking for Shannan Gilbert, a missing New Jersey woman who worked as a prostitute. In the next few months, the remains of six more people turned up a few miles away. Yesterday police revealed that they still haven't identified five of the victims (or found Gilbert), but they say this doesn't mean they've hit a wall. One official explained, "This is not a television show where everything is solved in an hour."
CNN reports that at a press conference, authorities in Suffolk County shared new details about the victims in the hope that someone will come forward with more information. Police released sketches of what two of the victims might have looked like. The first is the only male victim, an Asian man who was between 17 and 23 when he died. He was murdered five to 10 years ago and was wearing women's clothing at the time. Police believe that like the victims who've already been identified, he may have worked as an escort. The other sketch is of a woman known as "Jane Doe No. 6." Her head, hands, and right foot were found in April, but DNA evidence has determined that her torso was found more than 40 miles away in Manorville in 2000.
DNA testing found that a mother and her young daughter are among the victims. The toddler's remains were found near Jane Doe No. 6, but bizarrely, they're not related. The woman who's believed to be her mother was left seven miles away. Police showed photos of jewelry they were wearing, including a rope necklace and hoop earrings that were on the girl, and bracelets and chains that her relative was wearing.
Originally, police thought they were searching for one prolific serial killer. Though they believe four women were killed by the same person, it seems that they've just uncovered a dumping ground used by mulitple people, and the case keeps getting more confusing. The partial remains of one woman matches a pair of severed legs found on Fire Island nearly 15 years ago.
G/O Media may get a commission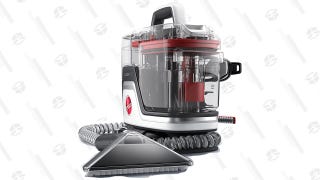 Save $10
Hoover CleanSlate Plus Carpet & Upholstery Cleaner
The Wall Street Journal reports that at a press conference, Suffolk County Police Commissioner Richard Dormer addressed why the investigation seems to be taking so long. He said:
"Certainly the investigation hasn't stalled. As you can see...we're making progress. This is not a television show where everything is solved in an hour. This takes painstaking hours of detective work, forensic work."
Dormer says police have followed up on more than 1,200 tips, searched through missing person files, and entered the victims' DNA in a national database. Now they've asked investigators around the country to look at the evidence to see if it matches any of their cases. Dormer added:
"We want to reach out to people in the escort business to come forward with information. We are not interested in their occupation; we just feel that their information could be very valuable to this investigation."
Since sex workers have the most to fear, and are more likely to have tips on missing associates and johns who behaved bizarrely, perhaps it would have been wise to assure them months ago that they won't face prostitution charges if they come forward.
Pursuing Identities, Police Disclose Details About L.I. Victims [CNN]
Suffolk Issues a Call for Help in Bodies Case [WSJ]
Pursuing Identities, Police Disclose Details About L.I. Victims [NYT]