Today in "terrible news from Florida," police continue to search for a 2-year-old boy who was dragged into the water by an alligator near Disney's Grand Floridian in Orlando.

According to reports, the child was wading in the water with his family in an area marked "no swimming," when he was attacked. The Associated Press reports that the child's father attempted to rescue the child but was unsuccessful. The family is visiting from Nebraska.
The Orange County Sheriff's Department said at a news conference this morning that the search for the boy is still a "search and rescue." "We are very hopeful," a spokesman for the department said. Via the AP:
More than 50 law enforcement personnel searched the well-tended lagoon along with an alligator tracker and two marine units in an effort that continued through the night. Williamson said more personnel would be brought in Wednesday morning to offer some "fresh eyes" for the search.

Nick Wiley with the Florida Fish and Wildlife Conservation said it's rare for people to be attacked by alligators, but he added that the creatures move around. He said four alligators were taken from the water overnight, but officials found no evidence they were involved. He said the alligators have to be euthanized before they are analyzed.

At the news conference, a spokesman for Disney was asked whether or not the park knew about the alligators in the water; he reiterated that the area was marked "no swimming." Disney said it will close all resort beaches.
ABC notes that "unprovoked alligator bites," have grown in the last few years, but fatal attacks are uncommon. But there has undoubtedly been an uptick in truly terrible alligator stories to emerge from Florida in the last few months. Earlier this month, a gator was found gnawing on a dead body in Lakeland and in November, a video of an alligator eating an invasive python went viral, all confirming my suspicions that Florida is the Hellmouth. Further evidence of this theory is supported by the fact that Marco Rubio—a man Floridians thought would disappear into the humid ether after his brutally embarrassing presidential bid—is thinking of running for the Senate. And then there's this and this and, oh, the invasive Nile crocodiles.
G/O Media may get a commission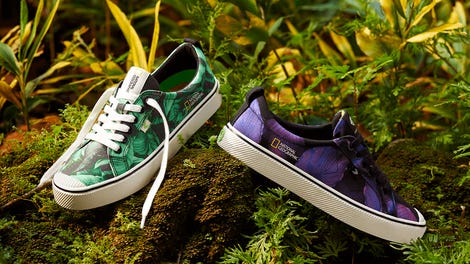 New New New
Cariuma + National Geographic
Further proof of how bad it's gotten is offered, again, by ABC who provides the following advice for warding off gator attacks:
"If an alligator bites you, make a commotion: hit or kick the alligator, or poke it in its eyes, because alligators will retreat from prey they can't easily overwhelm."
Literally never do this. Don't ever get into a fight with alligators. Instead, flee the state and never return. I'll go with you.
Update: The body of the two-year-old boy was recovered this afternoon. Orange County Sheriff Jerry Demings said that the cause of death was drowning.
Image via AP.