Twitter is rocking the food world to its very core.
27-year-old Canadian @Maureen (Evans) has, with her collection of condensed international recipes, become something of a global sensation. I regret to say that certain things about the description of her in today's Times set of my "petty" alarm. To wit,

Though not a trained chef, she is an enthusiastic home cook and traveler, with a close connection to Twitter through her partner, Blaine Cook, who was Twitter's lead architect. They live by the sea in a rented castle; when I reached her by phone the other day, she said she was looking out over the low tide.
We've already mentioned her real job description; she describes the "tiny recipes" as " a coffee-break hobby."
But, pettiness aside, her tweets are rad. Her recipes, described as "Delicious ideas from all over the world" are inventive, ingeniously broken down, and very appealing. The ones yours truly have tried have worked, and the author of the article tests a bunch with no problems. Here's one: "Strudel Pastry: cut 2T butter/1c flour/mash tater. Knead w 2t yeast/2T h2o; rise 1h. On flour cloth gently pull 17x25"; trim-1"/butter well."
She says she likes the challenge of the condensation; the Times reporter likes the challenge of decoding them. Figuring out the recipes takes way longer than reading them, and while this may seem counterintuitive and gimmicky, it demands a level of detective work and basic know-how modern cookbooks, ironically, have rendered obsolete. In this sense, she's really a throwback to the receipt books of an earlier age, which assumed a breadth of knowledge and expertise and so could give only the broadest strokes of an idea. Beyond sites like this, Twitter's a boon for people looking for ideas; you have only to ask what your followers are having for dinner and get a barrage of suggestions and links. It takes some of the loneliness out of menu-planning and cooking. Lots of food bloggers and food diarists have taken advantage of the medium, and on a practical level, plenty of food trucks have started tweeting their whereabouts to hungry customers. When it comes to dieting, tweeting is great, too, as people can keep food diaries and compare notes with others on sites like tweetwhattyoueat.com.

If that's the sublime - and hey, this is Twitter, here - get a load of the ridic, also profiled in today's "Dining In." Basically, Danyelle Freeman, the New York Daily News' critic and a well-known blogger, has had her identity stolen - or so say she and her lawyers. A guy called Adam Robb Rucinsky has adopted her "Restaurant Girl" moniker and parodies Freeman's breezy, dizzy tone on Twitter. This might constitute trademark infringement, but is only really problematic if it moves beyond parody into impersonation. Thing is, it's hard to say: a lot of his writing is uncannily like hers. Weirder still, he adopts her "voice" on a blog devoted to Freeman's work, and on, um, his personal blog. Whether it's legal or not, this has clearly gone beyond idle interest into something quite peculiar.
Has Twitter changed the way we eat? Well, probably not, but certainly how we think about food: our obsessions are out in the open now, for good and bad. Even if you're not sold on a 140-character recipe, you can probably appreciate the back-to-basics streamlining it entails. And that someone's 140-character parodies can be recognized as riffs on 140-character originals? Altogether, this shows that when it comes to food, you can say a terrifying amount in a very few words.
G/O Media may get a commission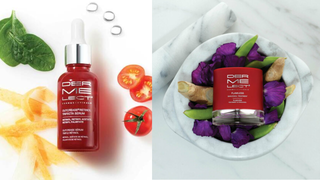 Save $19
Retinol Renewal Kit
Lawyers Enter Twitter Tempest [NY Times]
Take 1 Recipe, Mince, Reduce, Serve [NY Times]
Twitter for Your Lunch [New York Observer]
Latest Twitter Food Trend, Kogi BBQ [Look And Taste]
Tweet What You Eat [Official Site]