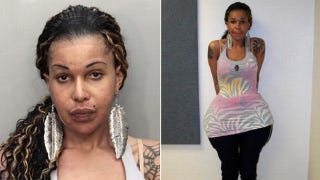 More maimed patients have come forward to corroborate an accusation that a transsexual woman posing as a doctor has been going around injecting toxic chemicals into people's posteriors.
CBS reports that 30-year-old Oneal Ron Morris has been released on bond after being charged with inflicting serious bodily injury and and practicing medicine without a license— but wait, there's more!
Morris allegedly charged the original complainant $700 to give them the ass of their dreams and injected them with flat tire sealant, cement, and mineral oil, because men's anacondas don't want none unless you've got a tire in your pants, hon. Police now say that others have come forward with similar stories.
Lesson to learn from this: don't let people inject unnecessary things into your ass. You can do side bends and situps, but please don't enhance that butt.
Report: More women claim fake Fla doc gave them cement butt injections [CBS]