Fixer Upper's Joanna Gaines just had her fifth baby—a very cute baby boy named Crew—and her husband and co-star Chip Gaines is already talking about having another child to keep Crew company as he grows up, which would bring their total number of children to six.
In an exclusive interview with People, Chip marveled at how time works: "It's hard to believe this little turkey [Crew] will only be 10 years old when [second-oldest] Emmie is graduating from high school."
Incredible! Kids grow up at the same rate even if they're born in different years. Emmie is currently 8 years old.
Chip went on: "I think we have to have another one because I'm particular about the only child thing. Crew needs a sister to manage this whole thing out. Don't be surprised if No. 6 is in the cards!"
To be clear... Crew isn't an only child; he's one of five siblings. Second, I don't like the "Don't be surprised" phrasing. In fact, Joanna was surprised by Baby No. 5 earlier this year, when she realized she was pregnant in January. Once she started showing, she said it had been so long since her last pregnancy that it felt like her first. But that's just a joke, because she admits that now, pregnancy is harder for her.
G/O Media may get a commission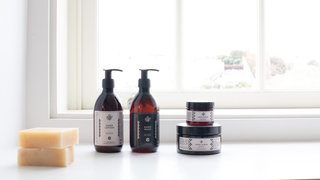 Exfoliate and Hydrate
The Handmade Soap Company
Joanna tells People: "When I first got pregnant, I kept telling everyone at the office, 'Guys, I am my best self when I'm pregnant.' And then, for whatever reason, I was limping into work and I couldn't breathe. At 40, it's definitely a little different."
Children are a gift and all that, but Joanna has now given Chip five precious gifts, and she doesn't owe him a sixth under any circumstances. If they're worried he'll be lonely, don't be, he'll make friends. Get him a dog. Get him two dogs. Send him to boarding school or teach him to sail a boat around the world. I don't know. But unless Joanna says "I wanna have a sixth kid," then they probably shouldn't. Chip, buddy, stick to what you know best—cracking jokes and looking pretty—and give your wife a break.