If you are curious for more details on the crime story of the century—at least for Old Hollywood/museum enthusiasts, anyway—The Ruby Slippers of Oz: Thirty Years Later, a classic text about the shoes, will be rereleased with information about the FBI's recovery of the stolen memorabilia. But when does the investigative podcast drop?
Deadline spoke to the author, documentary filmmaker Rhys Thomas, who got an unexpected call from the FBI before the news broke. Specifically, he got a mysterious voice mail, and he wondered if it was even legit:
Calling the number in Minneapolis, he got FBI public affairs officer Michael Kulstad on the phone. "May I ask what this is about?" Thomas asked, still a bit wary.

"May we speak confidentially?" the FBI official asked.

"Yes," Thomas replied.
"Mr. Thomas, this is about the ruby slippers."
The official asked Thomas to join them for a press conference; Thomas pressed for details and finally got, after a long pause: "I can tell you that we have recovered the ruby slippers."
The updated book reveals fun details like the fact that the stolen pair and the famous, newly restored Smithsonian pair are actually all mixed up:
The book reveals for the first time that the FBI authenticated the stolen pair against the pair at the Smithsonian. It was the first time the two pairs had been together since the 1970 MGM auction. And in one of many odd quirks uncovered by Thomas, the Smithsonian's pair and the stolen pair actually were mismatched twins: The right shoe of the Smithsonian pair matched the left shoe of the stolen pair and vice versa.
G/O Media may get a commission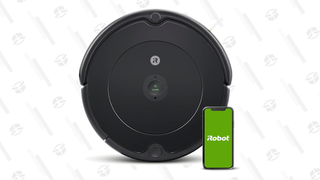 35% Off Black Friday Deal
iRobot Roomba 694 Robot Vacuum
The true-crime content I crave!