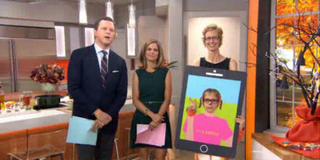 Look at this poor child. This kid fucking hates every single thing about this "selfie" costume.
Spotted by BetaBeat, this 'Selfie' costume featured during a segment on the Today Show might actually be one of the worst costumes a child has ever been forced to wear. (It actually says "I <3 Selfies." This is supposed be a "fun" costume for your child.)
Case in point was the selfie costume — yes, folks, the SELFIE COSTUME — presented on this morning's TODAY Show by Family Fun Magazine deputy editor Mary Giles. Despite the enthusiasm of Ms. Giles and TODAY Show hosts Willie Geist and Natalie Morales, nothing could conceal the sad, sad eyes of the poor child forced to wear this ridiculous and cumbersome-looking get-up.
The end result is this history-making, glorious bitchface:
The child in the original pic for Family Fun didn't seem to hate it nearly as much.
Look, I don't know your child. I've never even met your child. But I am DAMN SURE they do not want to be forced to wear something like this on Halloween. If you force them to wear it, this will be the end result. If you force them to wear it on Halloween and be on national television, this will only be the beginning. Oh don't worry. They'll definitely wear it again—at your funeral, during lengthy therapy sessions or perhaps during the inevitable drug-fueled police standoff they wind up in. Is a few seconds of the awkward forced smile of Willie Geist really worth all that? No. No it isn't.
[h/t Betabeat]