There is a new comedy pilot in production at TV Land that will star Alyson Hannigan (How I Met Your Mother), Megan Hilty (Smash), and an as-yet unannounced actress as three friends in San Francisco who "reconnect after a close friend from college dies in a freak accident." It's called The First Wives Club, but it should be called something else.
That's not to say the series described above couldn't be a good one. On the contrary—and based on the talent involved—I'm sure it could be. But to grant it the name The First Wives Club—that timeless 1996 comedy I find myself watching and rewatching with no marked decrease in enjoyment—disrespects so much of what the film (and the novel that inspired it) was about.
First of all, let's take a look at the ages of these women. According to Deadline, 42-year-old Hannigan will be a "bright but frustrated woman who is struggling to put excitement back into her flagging marriage." This sounds a lot the role of Diane Keaton, who was 50 at the time. 35-year-old Hilty will be playing a woman who was "once a very successful actress who has 'aged out' of Hollywood"—presumably a version of the character made famous by Goldie Hawn, also 50 when the film was released. To put this in perspective, Hilty is just four years older than Sarah Jessica Parker was when portraying one of the film's villainous "younger woman."
I would have been willing to forgive this age change, as well as the show's unnecessary switch from NYC to San Francisco, if not for the reported alteration to the original story's inciting incident. The film begins with Cynthia (Stockard Channing), a college friend of the lead characters, jumping off the balcony of her Manhattan penthouse after a depression brought on by a combination of alcoholism, neglect, a cheating husband, and her struggles with aging and mortality. Changing a suicide to a "freak accident" effectively obliterates the motivations that gave such a goofy, slapstick-y comedy its gravitas. Imagine Troop Beverly Hills without the divorce. Or The Best Exotic Marigold Hotel, but about millennial expats. Without Brenda, Annie, and Elise's acute understanding of what brought Cynthia to suicide—and their decision to memorialize her by helping all women stand up against the patriarchy—it's just a story about three women starting another chapter in their lives.
Not that there's anything wrong with that, of course. My kingdom for a Netflix-like service made up exclusively of TV shows and movies about women starting another chapter in their lives, but if you're going to remove the single most important motivator for the The First Wives Club's characters, show a little respect and call it something else.
G/O Media may get a commission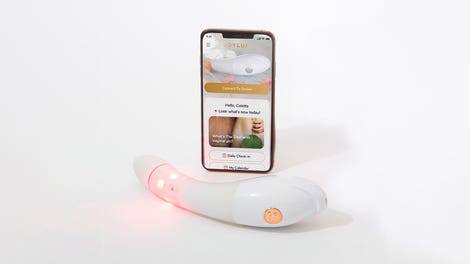 $50 Off
Joylux vFit Gold Device
(As I've mentioned before, I will sure as hell be watching TV Land's The First Wives Club.)
---
Images via Getty.