Listen, I'm a simple woman. I don't ask for much. All I want on this earth is for this Lindsay Lohan vs. Justin Bieber internet feud to poop weird insults back and forth forever. For-literally-ever. Is that out of line? Here's the latest: Lohan has responded to Bieber's slight (in case you missed it, he basically called her a filthy poor) by blabbing to friends about how "karma" will avenge her. Justin! Justin! Raise your hand and ask what karma is!!!
Sources close to Lindsay tell TMZ, she was "appalled" when she read what Bieber had written about her in his Instagram diatribe ... in which he said, "... to those comparing me to Lindsay Lohan look at her 2012 tax statements ;)"

Bieber quickly deleted the insult, but Lindsay is telling friends ... it's too little, too late ... and "karma" will bite him in the ass.

We're told Lindsay feels Bieber's comments were "senseless and mean" — she's never had beef with him ... and has no idea why he chose to single her out, bullying her on an international platform.

Lindsay says she's learned to brush off the negativity ... and chooses not worry about rude, ungrateful, obnoxious little hairless boys.
Justin. The unsubstantiated source called you hairless. Are you just going to sit back and take that!?!!?!?!? (Tell her her nail beds suck!) [TMZ]
---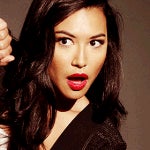 Naya Rivera (prettiest human on television?) says the latest season of Glee "feels like a different show" and she's bummed about it:
"It does feel like a different show and sometimes I get really sad about it. We shoot on the same soundstage, but there's this big door that separates the two worlds, so on my lunch breaks I'll go over there and see [Kevin McHale] and [Jenna Ushkowitz] and everybody I haven't seen, like, 'I miss you guys! What are you doing?' I have no idea what they're doing! I have no idea about the gossip and drama with the new kids," the 26-year-old actress tells Vulture. "I feel like I've really grown up because we used to have all that stuff and now we don't."
I wish it would start feeling like a different different show. Like a show that is actually watchable. (Ooooooooooooo! I'm sorry. I burned it. Please don't be mad at me, I could not resist the burn.) [Us]
---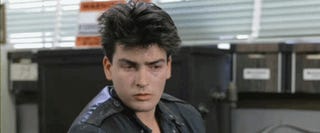 Oh, for fuck's sake. Charlie Sheen says that his 9-year-old daughter was bullied out of her former school, so he urged his fans to go smear dog poop on it. On the school. For revenge.
The 'Anger Management' actor claimed that his nine-year-old daughter Sam - whose mother is actress Denise Richards - was ''bullied out'' of Viewpoint School in Calabasas and branded a liar, and asked his Twitter followers to make clear their disgust at the ''abhorrent disrespect'' shown to his little girl by delivering ''rotted egg a roll of toilet paper or some dog s**t there.''

But a spokesperson for the school hit back at the 49-year-old actor's claims on Twitter on Thursday (14.03.13), writing: ''Viewpoint School's highest priority is the safety, security and education of our students.

''The parent of a former Viewpoint School student who has not attended Viewpoint School since March, 2012 has made certain accusations in the media ... Our administrators addressed the issue appropriately [last year].

''Our School takes accusations of bullying very seriously. For over 50 years, Viewpoint School has provided a safe and nurturing environment for our students to thrive, and we will continue to do so.''
UNCLE CHARLIE. BE AN ADULT HUMAN MAN FOR FIVE SECONDS. [ContactMusic]
---
Ready to learn about the "vampire facial" that Kim Kardashian got? You're going to love it.
In a vampire facial (the term "Vampire Facelift" has been trademarked by Alabama doctor Charles Runels), which is intended to help fight signs of aging, about two teaspoons of blood are extracted from the patient's arm, spun in a centrifuge for approximately 10 minutes to separate the platelets, and then injected back into the patient's face.

The golden-colored clear serum that rises to the top of the tubes is known as platelet rich plasma, or PRP for short, and that is what's "injected into the patient's face to rejuvenate the face," New York-based dermatologist Dr. Macrene Alexiades-Armenakas tells Us Weekly.

Asked if there is any science behind the latest anti-aging remedy, the doctors are split. "[There's] almost none," Dr. Alexiades-Armenakas tells Us. "As of now there isn't any scientific evidence that examines its efficacy … but presumably the plasma contains nutrients and factors that may boost skin rejuvenation. It is the latest new thing."
A vampire facial costs between $1500 and $2500, depending on how much jack-shit you want it to do to your face. [Us]
---
Lindy West's senior year of high school soothing nostalgia dance party! Aaaaaaaahhhhhhhhh. [TheYear2000]