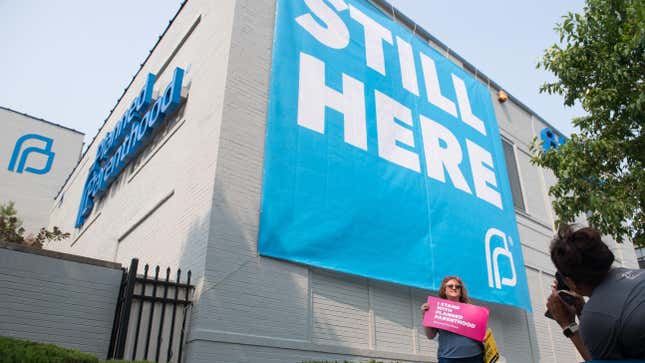 After the Supreme Court overturned Roe v. Wade, Dr. Colleen McNicholas, chief medical officer of Reproductive Health Services of Planned Parenthood of the St. Louis Region, worked with a patient who drove 13 hours to her clinic in Illinois from the southernmost part of Texas for a medication abortion. Upon receiving the abortion pills, the patient declined help paying for lodging and instead immediately drove 13 hours back, straight to work. "She said, 'I have a life to get back to.' It's part of how we continue to hear from folks about how difficult it is, even when we've created systems that can support them," McNicholas told Jezebel.

Red Tape and Sexism Have Kept Abortions From Being Provided at OBGYN Offices
Her organization offers a regional logistics center to help traveling abortion patients navigate the labyrinth of abortion laws and geographic barriers—and also get the financial help they need—to access care. But the barriers are constant and ever-evolving. "We'll hear from so many prospective patients who have never been to an airport, who we have to walk through how to get an ID, how layovers work," McNicholas said.
As we mark the first anniversary without Roe, even states where abortion has remained legal have been gutted by the decision, inundated with out-of-state patients seeking abortion care due to bans in their states. In Illinois, a rare abortion rights haven in the Midwest, this reality has been especially stark, spreading abortion providers in the state increasingly thin and taking a toll on patients, too.
Planned Parenthood says its abortion-providing clinic in Fairview Heights, Illinois, saw a 700% increase in out-of-state abortion patients, on top of a 35% increase in abortion patients in general over the last 11 months. Yamelsie Rodriguez, president and CEO of Reproductive Health Services of Planned Parenthood of the St. Louis Region, told Jezebel in a statement that patients coming to her clinics in the southern region of Illinois for abortion care from 29 other states are "mostly from the South." To meet this increased need, an Illinois clinics in Rodriguez's organization has had to substantially expand its hours of operations and even set up its first mobile abortion clinic.
The organization notes that among a range of costs and barriers incurred by being forced to travel out-of-state for care (sometimes hundreds, even thousands, of miles), more and more patients are facing delays that force them to seek later abortion care. Planned Parenthood says procedural abortion 14 weeks or later increased by 32% in its southern Illinois clinics. All of this offers a snapshot of how the shuttering of abortion access in some states post-Roe has worsened conditions everywhere, as the consequences for abortion bans in some states bleed across the country.
Because of these increased wait times and barriers in states where abortion remains legal, McNicholas says traveling patients aren't just coming from states that have banned it. Some traveling patients, she says, are from states where abortion is legal, but providers are struggling or unable to "meet the increased demand from states surrounding them."
The staggering numbers shared by the Planned Parenthood's St. Louis chapter compound with heartbreaking data points we've already seen: Illinois faced the second-highest increase in abortions in any state since the Dobbs v. Jackson Women's Health ruling, seeing a 28% increase in abortions between April and August in 2022. Self-reported data from abortion providers in the state shows the proportion of out-of-state patients they've served increased from 6% before the fall of Roe to one-third after, per the Chicago Tribune.
Illinois has also been subject to increased anti-abortion violence, which has surged in states where abortion rights are protected, as dwindling clinics become more vulnerable. One independent clinic under construction in Danville, Illinois, experienced two horrific acts of vandalism over mere weeks, delaying the clinic's opening.
McNicholas says she's observed an increase in violence and harassment at clinics under her purview too. It's simple: "As patients are needing to find new homes, so too, are the protesters who were existing in those states where clinics are now closed."
Despite all of this, there have been glimmers of hope—like the 97% increase in vasectomies rendered by Planned Parenthood clinics in McNicholas' region since last year and the steady support of abortion funds helping traveling patients get to where they need to go. It's a bleak time for abortion access, to be sure, but McNicholas says we're also seeing a deepening, radical imagination among people in her strenuous line of work. "More and more people are talking about what a future looks like that's better than what Roe could ever live up to, a future of abortion access, building toward something that's better," she said.