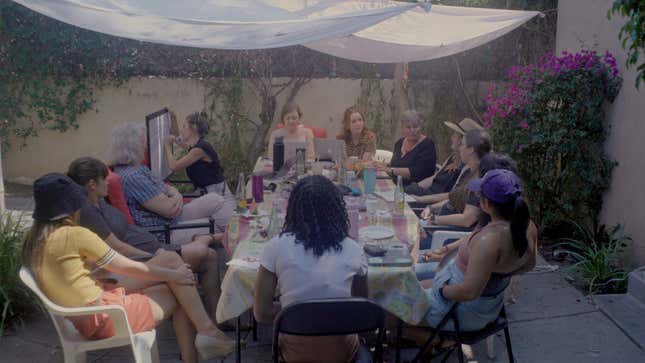 June 24, 2022, started unremarkably for documentary filmmaker Tracy Droz Tragos (Abortion: Stories Women Tell, Rich Hill). She was dropping her child off at summer camp in the Berkshires and had to swing by CVS to grab a disposable camera, as the camp didn't allow cell phones. And then she heard it on the radio: The Supreme Court had overturned Roe v. Wade. She got to work, capturing footage of response on the ground, and most revealingly, shooting a doctor fielding calls from women whose scheduled abortions the ruling had canceled. In Tragos' documentary Plan C, which premiered at Sundance this week, we see said doctor advise a patient about using abortion pills just days after Dobbs: "Since you are in a state where abortion is banned, you don't want to put them in vaginally, because if something happened and you went into the hospital, we don't want to have anything where they can tell you actually took medication."
The Empress of Halloween Plays "Name That Scream Queen"
At that point, Tragos had already been filming for years, though she didn't set out to make quite the historical chronicle that Plan C turned out to be. She started in 2018 when she met principal subject Francine Coeytaux, one of the co-founders of Plan C, the "public health meets creative campaign" that since 2015 has provided information for those seeking at-home, medical abortions. Initially, her doc was more of a portrait of those behind Plan C, but the repeated blows to abortion access in the United States over the past few years transformed her film as well as her process. "It [took] being scrappy and a more investigative reporter than I typically am in my work," Tragos told Jezebel by Zoom on Tuesday, just hours after her doc premiered.
"It's a tricky balance, because we wanted to get some of the hard facts out there," she explained. "But we didn't want this to be, you know, eating your broccoli. At the end of the day, we can strike the perfect balance of providing just enough information, being historically accurate—because we're filming over four years when there's all of these laws coming down—and the portraiture of the regular, ordinary people who step up." Covid's impact on the necessity of at-home abortion, Brett Kavanaugh's appointment to the Supreme Court, Ruth Bader Ginsburg's death, Amy Coney Barrett's Supreme Court appointment, and the Supreme Court's January 2021 ruling that abortion medication mifepristone must be retrieved in person (reversing the covid-era suspension of that rule) are all chronicled in Plan C, alongside profiles of Plan C, commentary from the likes of activist Loretta J. Ross and senior counsel of If/When/How Farah Diaz-Tello, and accounts from people who have had abortions or access denied.
Coeytaux notes early in the film—way before the doc gets to the impact of the overturning of Roe—that, "What's legal and what's not half the time has to just be proven by doing it and finding that in fact nobody can come after you, or does come after you because probably it wouldn't stand." Tragos related to the dubiousness of the work she captured her subjects performing: "I think it's similar to the spirit of a documentary filmmaker, frankly, where it's like, do you ask for permission all of the time, or do you beg for forgiveness?"
Tragos said she left out certain details regarding the supply chain of the abortion pills—she was less interested in presenting how the sausage gets made and more in showing viewers where to get the sausage. That said, those who have helped get abortion pills into the hands and mailboxes of people seeking abortion face more than legal ramifications—they could be harassed and targeted by anti-abortion activists. Some of the movie's subjects openly worry about their children being affected. This created more trickiness for a filmmaker attempting to tell her subjects' stories while not putting them in further danger. In Plan C, there's a range of identity obscuring happening, from the withholding of last names, to strategically obscuring shots, to blurring of faces and distorting of voices.
"We filmed often with the intention that we weren't going to show faces," explained Tragos. "We did that as artfully as possible, but also not shying away from the fact that, yeah, we have to conceal these people. We are in the United States of America and yet we have to do this." Some subjects were double blurred; some like Coeytaux appear completely unobscured. "We navigated that individually with the people in the film," said Tragos. "And it's on everyone's own inner compass to decide how far they can go." After screening a cut and hearing concerns regarding a particularly vulnerable subject, she removed shots of the subject's blurred face, replacing them with shots of the subject's hands. "It's kind of costly to swap all that out after [editing], but at the end of the day, I don't want to jeopardize this work," said Tragos.
Speaking of cost, Plan C came at a considerable one for Tragos, who says the movie put her into debt. Her production company was able to secure a loan, as well as some funding from the Utah Film Center, but the project was largely self-funded. She worked with a "skeleton crew"—sometimes she shot without a designated sound person, just her and one of her two directors of photography (Emily Topper and Derek Howard). "There were definitely low points," she said of the shoot. "But, you know, you get up again and there's a bigger why. And frankly, I was inspired by the women in this film. I was inspired by how they came together."