Pippa Middleton's been hanging out in New York with Andre Balazs and Roger Federer but, ultimately, the highlight of Pippa's stay here came when she and Chace Crawford "didn't party together, but spoke for 10 minutes." About what? About conditioners?
PIPPA
Hey.
CHACE
Hey.
Their hair combines forces and shines like the sun.
PIPPA
You're Zac Efron, right?
CHACE
No.
Pippa walks away.
Crawford has, of course, met Prince Harry "a few times" because Gossip Girl is actually what his life is. [Us Weekly, Page Six]
---
G/O Media may get a commission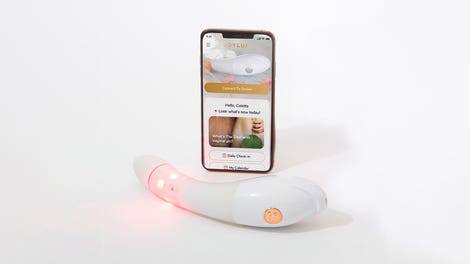 $50 Off
Joylux vFit Gold Device
Kristen Stewart aptly predicted the better part of her summer in a pre-cheating interview for October's British Vogue.
I know that if you haven't thought about how you want to present a very packaged idea of yourself then it can seem like you lack ambition. But, dude, honestly? I can't. People expect it to be easy because there you are, out there, doing the thing that you want and making lots of money out of it. But, you know, I'm not that smooth. I can get clumsy around certain people. Like if I were to sit down and think, 'OK, I'm really famous, how am I going to conduct myself in public?' I wouldn't know who that person would be! It would be a lot easier if I could, but I can't."
[Vogue UK]
Robert Pattinson's sisters are draping their heartbroken sparkly brother in the protective cloak of sisterhood and hate K-Stew's guts on his behalf. [Daily Mail]
---
Snooki took her baby out and waved him around for People Magazine. "It's a different kind of love that I never felt before," she says about Lorenzo Dominic, adding that the partying is over and she's a whole new person. Was she a person before? Is she now? Are we human? Or are we dancer? Discuss. [People]
---
Lena Dunham's dating .fun guitarist Jack Antonoff these days, one of the guys responsible for the pervasive spring hit "We Are Young," which is kind of perfect because both Dunham and that song make me feel less like "setting the world on fire" and more like taking a Klonopin and falling asleep in the middle of eating a burrito. Antonoff used to date Alia Shawkat, which actually makes me want to invite all of his past and present girlfriends over to my house and have the greatest staying-up-all-night-talking sleepover in the world. [Us Weekly]
---
For a refreshing change, Kanye West is posturing! In the single "Click" from his upcoming album Cruel Summer, he references that time his girlfriend Kim Kardashian filmed herself playing Jenga and solving the paranormal mystery of the old abandoned mill with her former boyfriend Ray-J:
Eat breakfast at Gucci / My girl a superstar all from a home movie.
So there's that. [TMZ]
---