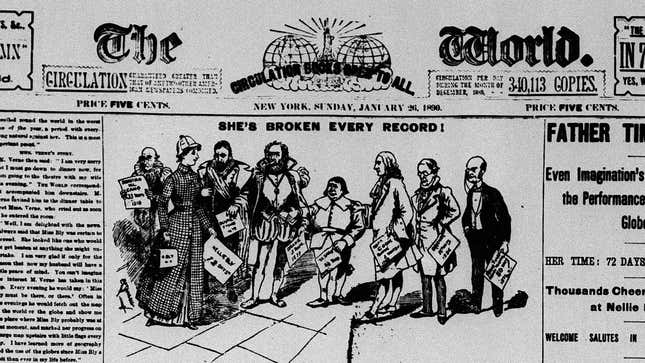 Nellie Bly, the pioneering investigative journalist who went undercover as a patient in a mental asylum to report its abuses as well as traveling around the world in 80 days for a story, is getting her own monument.
The Washington Post reports that Bly is getting her own statue at Roosevelt Island in New York, where a 23-year-old Bly spent ten days undercover as a patient in the asylum on the island uncovering the mistreatment patients received there. She truly gave no fucks as a reporter: to get into the asylum she practiced looking insane in the mirror, trying out different "far-away expressions" because she believed they had a crazy air, and embedding herself into the world she was reporting in ushered in a new kind of undercover journalism. After quitting and then coming back to journalism, Bly died of pneumonia in 1922. The organization the Roosevelt Island Operating Corp is currently sponsoring a competition for an artist to create the monument, who will have a budget of $500,000. The statue will be unveiled in spring 2020.
New York City has recently turned its attention to raising monuments in tribute to marginalized figures who made history as a corrective to a city filled with statues in honor of men (as of 2017 there were 150 of the men, just 5 of women.) In May the city announced it would be creating monuments for drag queens Marsha P. Johnson and Sylvia Rivera in celebration of their lives championing trans and gay rights. And while I am skeptical of the idea that simple female and LGTBQ representation in statue creation can actually advance the politics of the people who inspire such statues (the cursed existence of "Fearless Girl" continues to haunt me) the diversification doesn't hurt.