This week, our guest consumers are Splinter's Libby Watson and Emma Roller, in a very special Washington, DC episode of Shit I Bought.

---
Libby Watson
I work from home and live with my boyfriend, who must by now have realized his mistake anyway, so I very rarely feel the need to wear makeup. I've also generally found that wearing foundation, BB cream, or even tinted moisturizer makes me break out—the oft-recommended bareminerals Complexion Rescue, for example, was a disaster for my skin—so I resign myself to looking awful and just wear plain moisturizer with SPF. Last month, I bought the Elta MD UV Clear sunscreen and I love it. It has niacinamide and definitely makes my skin look better and more even, and it goes on less greasy than other SPF moisturizers.
I also bought The Ordinary's niacinamide serum because it was six fucking dollars, and I use it most nights. It's Niacinamide Time Bitches.

G/O Media may get a commission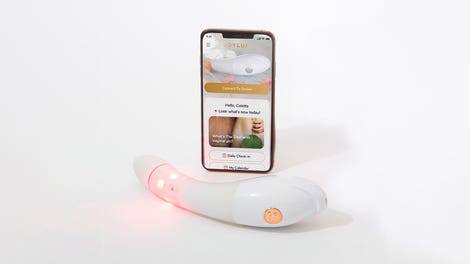 $50 Off
Joylux vFit Gold Device
But lately I've found myself pining for some good makeup that doesn't make matters worse. I have the Laura Mercier oil-free tinted moisturizer and it would be lovely if it wasn't just a little too orange for my very pale English skin. I went to Sephora last week and the sales associate recommended Dr. Jart's Beauty Balm, which I then remembered came in a Birchbox I had years ago and I loved it then, so I bought that shit. I love how it looks, and so far I have not had any new pimples.
Speaking of pimpies, a coworker told me about these magical pimple patches available on Amazon and I love them. You put them on a pimple and it just kind of speeds up the whole sorry affair; it sometimes kind of sucks the gunk out too, which is incredibly gross and also rules.

Probably my most embarrassing purchase: these bizarre silicone cellulite cups, which I saw on an Instagram ad. I knew that they were too good to be true; no mere cup can melt your cellulite away, and don't you think we would have heard about it by now if it could, Libby? Hmm? But I bought them anyway because they were $10, far less than the cost of losing the ability to hold impossible dreams. I can't say for sure whether they work, because you're supposed to use them every day and I don't. They mostly sit in the bathroom and silently mock me.
I got rid of four bags of old clothes last week so I feel justified in having bought a lot of sensible clothing at Gap recently. Last time I was there, returning something I'd bought online, I realized I was wearing both a top and jeans purchased from Gap in the last month. That didn't stop me from buying this very nice bralette in red, which does a good job of holding my modest girls both in and up.
I also recently purchased this cute hooded cardigan, which I imagined wearing on charming fall walks that so far remain imaginary.

I am very partial to dark red/wine/whatever skinny jeans; my go-to pair of jeans for 2016 was a winey Madewell pair, which succumbed to Fat Thigh Tear earlier this year. I refuse to buy another pair of $120 Madewell jeans that wear out in a year, so I replaced them with these cheap Levi's from Zappos, in Malbec. These are pretty good, though I had to exchange the 30s that were too small for some 31s that are slightly too big, except for the calves, which are still a little tight. Whatever.
All of my apartment purchases have been in some way dumb. I bought my cat Digby a new water fountain, because the old one got gross quickly and also made a very loud noise when it was running low. This stainless steel one looks and sounds way better, but Digby will not touch it. Digby is rude. I bought a humidifier exactly like the one I had until earlier this year, when I moved apartments and inexplicably decided I wouldn't want to fight winter dryness anymore and threw it out. I bought this JCPenney blanket for my couch in Warm Spice because I love Fall, and it left orange fuzz over literally everything in our apartment, including Digby. It was on the ceiling fan??? Gross.
Emma Roller
This month, I really leaned into the idea of retail as self-care. Becoming even more of a stereotype of myself than I thought possible, I spent all my money this month on comic books, cat food, and candles. As you will see, I am truly a fascinating individual with refined tastes.
First, the cat treats. Libby put me onto Sheba Meaty Tender Sticks, which are essentially beef jerky sticks for your cat. (If you don't follow Libby's cat, Digby, on Instagram, you're really missing out.) My cat goes out of his freakin' gourd for these processed meat sticks!!! You can buy a pack of like 66 sticks on Amazon, which I know is the devil, but capitalism makes fools of us all.
I went to Fantom Comics in DC on Saturday (they are the best! go spend your money there!) and bought a whole slew of The Wicked And the Divine, which is a really innovative series that deals with popular culture, fandom, and identity. I also bought the latest volume of Paper Girls, which follows a band of 12-year-old girls in 1980s Ohio. The story starts with the girls stumbling upon something supernatural while on their newspaper delivery route, and takes many twists and turns from there. Paper Girls was Stranger Things before Stranger Things.
I also bought Deb Perelman's new cookbook, Smitten Kitchen Everyday, which is a real treat. As always, the photos of the food are gorgeous, the recipes are elegant but unfussy, and her writing is lively enough that it will actually make you want to read the words that come before the list of ingredients. On Sunday night, I made Deb's recipe for matzo ball soup—using plenty of dill and a dollop of horseradish—to great success. It's soup season, baby!!
It is frankly incredible that I have not bought any cosmetics in the past month, but I'm sure once I read Veronica's skincare blog, 20 items will magically appear in my Sephora cart. My favorite lip color lately has been the NARS Velvet Matte Lip Pencil in "Damned." I also bought those freaky Dr. Jart hydrating rubber masks. (I know other people are obsessed with these masks, but I thought they were Just OK.) Since Libby and I both work remotely, we wore our gimp masks while blogging.
Now, to get to the elephant in the room: candles. As a Taurus, I love all creature comforts, and during this time of year, that means filling my apartment with as many candles as I can without making it look like Hugh Hefner's grotto. I saw on Kinja Deals a couple of weeks ago that Yankee Candle was having a big sale, which led me to spiral into a micro-identity crisis. I'd never bought Yankee Candles before, but my coworker insisted they both smelled great and were potent without being overpowering.

Still, (Carrie Bradshaw voice) I couldn't help thinking: "Am I really the type of person who buys Yankee Candles?" I ended up buying two: Balsam and Cedar, and Cinnamon Stick. And you know what? They're nice! I was worried the Balsam and Cedar would smell too soapy-medicinal, but for me, it strikes the right balance of piney and waxy. The two candles play off each other well. I may not have the most refined nasal palate, but goddamn if my apartment doesn't smell like a Christmas Tree Shop.

Reading what I bought this past month, it is astoundingly clear that I am Not Cool. But as I stumble into my late 20s, I'm trying to accept that the things you buy don't have to be Cool to be meaningful. They just have to make you feel good, even if it's only for a few hours. If you want the candle, buy the dang candle.

This has been "Shit I Bought," comprised of shit we actually bought. No company compelled us to write about it for any reason. We bought it all, for better and often for worse, with our own money and of our own free will.