That creaking, clanking noise you hear faintly—so faintly—is the sound of the 2016 presidential election rolling inexorably in our direction. But right now much of the action is centered in Iowa, where, FYI, Republican senator Joni Ernst (who first came to our attention with an ad proudly touting her hog-castration experience) just held a barbecue and motorcycle rally for GOP candidates looking to sweet-talk Iowans before the primary.
And so let the spectacle of Republicans bending over backwards to out-down-home each other commence!
Time reports from the scene:
Pork and beans served from tin bins onto Styrofoam lunch plates, bales of hay stacked as a backdrop on a Potemkin farm used to demonstrate equipment at the annual Farm Progress Show. Hundreds of participants arrived en masse; Ernst led a pack of 300 bikes to the farm grounds, with Wisconsin Gov. Scott Walker right behind her.

"I love a Senator who knows how to castrate a pig, ride a hog and cut the pork from Washington, D.C.," said Walker, bedecked in a black Harley-Davidson T-shirt and ball cap.
It was Ernst's political carnival and the White House hopefuls were her performers. One by one, they took their turn on stage, standing in front of a metal barn festooned with a sign proclaiming Iowa is the "Fields of Opportunities." Shame was verboten and pandering was rewarded.
But apparently, the Roast and Ride was something of a sartorial challenge for the speakers. This is an early chance to meet the electorate, and you know what they say about first impressions. But what does one wear to such a fête? How best to pander???? It looks like nobody was very sure, because they landed on a hilarious mish-mosh of outfits. Here's Mike Huckabee, standing in front of a tractor in a billowing sports coat:
G/O Media may get a commission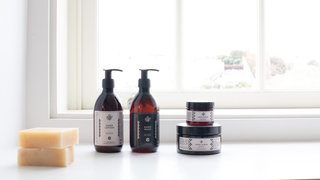 Exfoliate and Hydrate
The Handmade Soap Company
Ben Carson also wore a sports coat, but removed it before taking the stage. (Just shedding this jacket to get the job done, don't mind me!) He looked less like he'd catch you in the fellowship hall after Sunday services and lecture you about your hemline, which is something, at least.
Carly Fiorina I guess went to Horse Town and got the Western shirt with the most buttons possible:
Short-sleeved dress shirts are the best way to identify a Southern politician from clear across a football field. Lindsey Graham, ladies and gentlemen:
"Khakis will be fine, right? Right? Khakis are okay? Khakis? Khakis are crisp, right? Are we sure the khakis will work?" — Marco Rubio.
Rick Perry didn't wear khakis. Rick Perry wore jeans. Dress pants are for effete Washington insiders.
But Scott Walker's such a Washington outsider he's never even heard of Brooks Brothers, you get me?
He rode in on a motorcycle, by the way. Did everybody get pictures of Scott Walker on his motorcycle? I'm pretty sure he'll make another pass on the motorcycle, which he rode, like a cool dude, if anybody missed their shot the first time. Just a politician chilling out on a motorcycle.
Hell yea. Fuckin' America.
Images via Getty.
---
Contact the author at kelly@jezebel.com.