Though bad music during a wedding reception is expected—if not mandatory—songs chosen for first dances are a different beast. Though a combination of free alcohol, old friends, and terrible cousins can make even the worst song a joy to dance to by the end of a night, the first dance is different. All (mostly sober) eyes are on the happy couple, and all ears are tuned to the single piece of music they've chosen to represent their allegedly undying love.
And, if data released by Spotify earlier this month is to be believed, you're all choosing a bunch of crap. The music streaming service made a list of its users' most popular songs for first dances, and the top 10 have confirmed to me that love is not real.
---
10. Lonestar - "Amazed"
Like many songs on this list, "Amazed" seems to have been written with weddings in mind. In addition to being chock full of cliches, it includes the line "Oh it feels like the first time every time" which couldn't possibly be a good thing!
"How's your sex life, Carol?"

"Oh, you know. With Harge, every time is like the first time."
"Aw, honey! I'm so sorry!"
The only reason Jack Johnson should be at any wedding is if he's A) the one getting married, or B) shrouded in darkness outside the dance hall, offering up his vape to any guests who need to take a break from dancing.
8. Michael Bublé - "Everything"
Here's another from the "let's make that wedding money" category, only this one's somehow even lazier and less romantic than "Amazed." Nothing about Michael Buble flipping through a rhyming dictionary ("You're a carousel / you're a wishing well / and you light me up when you ring my bell") makes me believe my wedding gift to you was a sound investment. It just makes me wonder who'll get the toaster in five years.
G/O Media may get a commission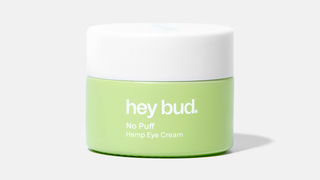 15% off
Hey Bud - No Puff Hemp Eye Cream
See #9.
Whoops I like this one, sue me.
You know what movie this song was written for? I'll tell you what movie this song was written for: The Twilight Saga: Breaking Dawn. Yes. "A Thousand Years" is about the supernatural bond between two vampires. When Christina Perri sings "I've loved you for a thousand years / I'll love you for a thousand more," she's assuming the role of a blood-sucking, vampire who has lived for centuries.
4. John Legend - "All of Me"
This song was written by John Legend for his wife, Chrissy Teigen. No offense to any of you lovebirds, but comparing yourself to John Legend and Chrissy Teigen is as laughable as comparing yourself to vampires.
I cannot fully explain why the first six notes of this song are so triggering to me emotionally, but they are. Hearing that celebratory sax at a wedding (and it has played at every wedding I've attended since 2009) is a lot like when I hear my alarm sound being used as someone else's ringtone. My heart races. My blood pressure increases. I want out.
2. Etta James - "At Last"
The Obamas danced to this at Barack's first inauguration. It's off limits now.
If the most romantic song you can think of is one by Ed Sheeran, good luck with your marriage!
---
Image via screengrab.