Publicly endorsing a birth control procedure seems like a decent way to inform women while (maybe) making some bank. But what happens when the procedure fails? That's what happened to ex-Olympic skier Picabo Street.
As David Matthews of Deadspin notes, Street told People in January that she had undergone the Essure procedure, in which inserts block the fallopian tubes, because she wanted a form of birth control "in the permanent category." It's not immediately clear whether Street was paid for her endorsement, although this press release sponsored by Essure's manufacturer Conceptus makes it seem likely. Whatever the case, when Street got pregnant — and her pregnancy was mentioned in the Idaho Statesman — Conceptus apparently saw fit to remove all reference to Street from its website. Later the company issued a statement saying that while Street had become pregnant prior to receiving confirmation of Essure's effectiveness (a test is usually performed three months after insertion), "more than 450,000 women worldwide have had the Essure procedure and rely on it for permanent birth control."
None of this should really be scandalous — as Conceptus points out, "no method of birth control is 100 percent effective." But it does illustrate the potential pitfalls of getting celebrities to endorse birth control products — if they don't work, the results can be pretty, um, obvious. And for the spokesperson, there's the added danger of letting the public in on information you might rather keep private (i.e. which of your pregnancies was unplanned). Then again, Street did say she wanted women to "know about all options when it comes to our health," and maybe it's good that they know about the failure rates of those options too. And given that so many pregnancies are unplanned, it's good for everyone to know that this isn't shameful — and that it can happen to people who use birth control as well as those who don't. We hope that if Street was paid by Conceptus she gets to keep her money. It would suck to lose an endorsement deal with a baby on the way.
Update: A spokesperson for the PR firm that issued the January press release says, "Picabo was a paid spokesperson in January 2010," and "We feel it is important for your readers to know that Essure still is the most effective form of permanent birth control on the market. Conceptus, the makers of Essure, has been a pioneer in women's healthcare for minimally invasive, in office procedures since 2002." A full statement from Conceptus is here.
G/O Media may get a commission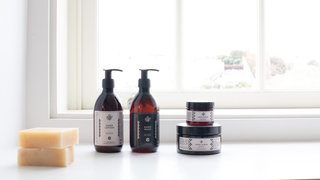 Exfoliate and Hydrate
The Handmade Soap Company
The Curious Case Of The Uterine-Expanding, Digitally Disappearing Picabo Street (UPDATE) [Deadspin]
Michael Deeds: Bronco Fever Goes Big Time [Idaho Statesman]
Picabo Street On Her Decision To Undergo The Essure Procedure [People]
Olympian Picabo Street Announces She Just Had the Essure® Permanent Birth Control Procedure [BusinessWire]