Nan Goldin, the photographer known for her images of early '70s and '80s New York City nightlife and queer culture, was addicted to OxyContin for nearly three years. Now clean, she's protesting the Sackler family who invented the drug and donated millions of dollars to some of America's greatest art museums.
Earlier this month Goldin wrote an essay in Artforum describing her addiction and protesting the Sacklers. "The Sackler family and their private company, Purdue Pharma, built their empire with the lives of hundreds of thousands," she wrote. "The bodies are piling up." The Sacklers, whose name is plastered on wings at museums like the Smithsonian, the Brooklyn Museum, and the Guggenheim to just name a few, were the subject of a recent New Yorker article on their Oxy empire.
In a new profile in the Guardian Goldin elaborates on the steps she's taking to hold the family, and the art world that often relies on them, accountable. Her goal is to get the Sackler family to move their money away from museums and towards paying for rehab and overdose antidotes. "I'm not asking the museums to give the money back," she says, "but I don't want them to take any more from the Sacklers, and I want them to put out statements in solidarity with my campaign."
The photographer is also learning new ways to protest that aren't just picketing, including creating a Twitter campaign #ShameOnSackler:
Goldin is now hurrying through a modern activist learning curve. "First I wanted to go out with signs and picket a Sackler wing of something, because that's what we did in the Vietnam war and that's what we did with Act Up in the Aids crisis," she says. But she recently discovered social media–"I went on Instagram for the first time three weeks ago," she says–and realised that petitions are online these days, so has set about organising one, which will be presented in due course to those Sackler family members on Purdue Pharma's board of directors.
G/O Media may get a commission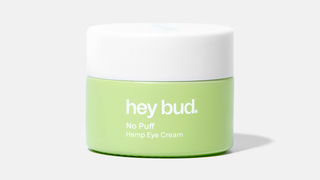 15% off
Hey Bud - No Puff Hemp Eye Cream
Inspired by her own experiences Goldin is also reportedly working on a documentary about the opioid crisis, which is now in its earliest stages. While addicted to drugs she wasn't making new work or taking a lot of photographs. She says of being out of rehab:
The 10 months since she left rehab have been hard. "But I can't go back [on drugs], I'll die. I'm staying clean for my doctor, for myself, for activism and the sake of other addicts. I feel that in my soul, it would be devastating if I relapsed. When I first went to treatment in 1989, I was motivated by the fact that Lou Reed and Dennis Hopper had gotten clean."
For a family that has worked very hard to associate their name with artistic institutions rather than fatal prescription drugs, the Sacklers may hopefully have a worthy opponent in Goldin.
Update, 11:33 A.M.: In an email to Jezebel a representative for Purdue Pharma writes:
We are deeply troubled by the prescription and illicit opioid abuse crisis, and we would welcome an opportunity to sit down with Ms. Goldin to discuss her ideas. For more than 15 years, this company has supported many of the initiatives she is advocating, which includes collaborating with law enforcement, funding state prescription drug monitoring programs and enhancing their interoperability, and distributing the CDC Guideline for Prescribing Opioids for Chronic Pain. In addition, we've recently announced educational initiatives aimed at teenagers warning of the dangers of opioids and continue to fund grants to law enforcement to help with accessing naloxone.
Update, 10:04 P.M.: In an email to Jezebel Dr. Elizabeth A. Sackler writes:
The opioid epidemic is a national crisis and Purdue Pharma's role in it is morally abhorrent to me. I admire Nan Goldin's commitment to take action and her courage to tell her story. I stand in solidarity with artists and thinkers whose work and voices must be heard. My father, Arthur M. Sackler, died in 1987, before Oxycontin existed and his one-third option in Purdue Frederick was sold by his estate to his brothers a few months later. None of his descendants have ever owned a share of Purdue stock nor benefitted in any way from it or the sale of Oxycontin. I stand with all angry voices against abuse of power that harms or compromises any and all lives.