As reported yesterday, tens of thousands are lining up for shelters in Florida where Hurricane Irma is making landfall. 6.5 million residents (a third of the state) have now been ordered to evacuate. Last night in Tallahassee, Governor Rick Scott sent a grim message at a press conference: "This is your last chance to make a good decision...We can rebuild your house. We can get your possessions again. We can't rebuild your life and we can't rebuild your family."
"You cannot survive this," he added on CBS yesterday.
But many have little or no choice but to stay. Low-wage workers risk losing their jobs if they evacuate, and those living below the poverty line don't have the means to leave (let alone eat, NPR reports).
Some like Lexi Allen, also a woman in her twenties, waited til yesterday afternoon to flee from Sarasota. She described the chaos on Twitter: no gas for days, not even emergency back-up supplies. She says directions constantly change and says people are confused by last-minute orders from the government.

G/O Media may get a commission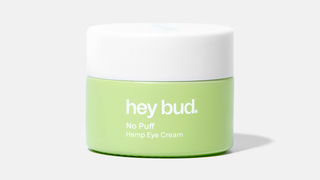 15% off
Hey Bud - No Puff Hemp Eye Cream
She reports that instead privately-run businesses like hotels are taking responsibility for sheltering people. She is currently on the road in Georgia looking for a hotel which takes pets.
Shane Donglasan, a woman in her twenties, also debated throughout the week whether to evacuate from Anna Maria Island or stay to protect her home. The house already needs repairs, and as a young couple, she and her partner they didn't have the means to fortify against 15 foot storm surges; she also knew that the hurricane could "pull a Charley" and switch directions at the last minute as Hurricane Charley did in 2004. On Saturday afternoon, they left for her parents' home inland in Highlands County. And they know what that means. "We're already preparing for not having a place to live," she said. "We're thinking in long term of leaving Florida."
She hasn't seen images of her house yet, but she knows that it's one of the million homes and businesses where the power is already down. Earlier in the week she'd called seven roofers, all of whom were busy, and even by Tuesday three local Publix and a Target had already run out of water and batteries.
Some of Donglasan's friends and neighbors who chose to stay in the Tampa Bay area feel they weren't given enough time, as the storm's projected path unexpectedly veered in their direction on the west coast on Friday. "For five days, we were told it was going to be on the east coast, and then 24 hours before it hits, we're now told it's coming up the west coast," St. Petersburg resident Jeff Beerbohm, 52, told the AP yesterday. "As usual, the weatherman, I don't know why they're paid."
Because of this, many had already made preparations and didn't want to risk getting on the road. "Some just weren't ready to leave and had already prepared to hunker down and stayed with that decision," Donglasan said of her friends, many of whom also lacked the resources to get a car and a hotel. Their lights are now flickering, she says.

Donglasan was able to get through to a friend Michaela Stockhill, who's stuck because of pets; on top of her own cat, she had to take care her mother's four dogs when her flight was cancelled, as well as her sister's cat because her sister is a nurse now assigned to a three-day ER shift.
Among his many dire warnings, Governor Rick Scott has warned those who stick around that they're on their own. "This is a deadly storm and our state has never seen anything like it," he said. "Once the storm starts, law enforcement cannot save you."