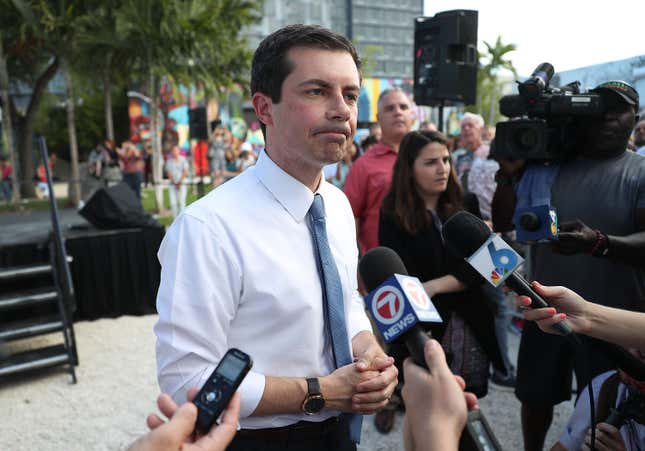 Tom Ford has done exactly one nice thing in recent memory: offer Pete Buttigieg a liferaft amidst a sea of slacks and blue ties. In a new Vogue profile, the fashion designer reveals that he met the presidential candidate at a campaign lunch early in the race. (As Vogue explains: "He is a huge fan.") Despite the "silken rhetoric" Buttigieg professed onstage, however, Ford was distracted by the candidate's clothing. His sartorial inclinations demanded he offer his assistance:
After the event, he texted Buttigieg's husband, Chasten, and offered a bit of sartorial guidance to the campaign. They didn't bite. "Obviously he can't wear my clothes," Ford says. "They're too expensive, they're wrong, they're not made in America. And besides, whatever he's doing is working. So does anyone need to fuck with it?"
A tragedy! Tom Ford is ostensibly the "designer of our time," and a magazine profile featuring his crisply tailored suits and a youthful edge could be exactly what Buttigieg's team needs to rally Hollywood donors (of which he already has many) and elevate the public's perception of his taste levels. Conversely, a collaboration with Ford might also represent the monied, celebrity-focused sort of Democratic politicking that's hindered the campaigns of "establishment democrats" and turned away young, leftist voters.

When I posed this conundrum to the Jezebel staff, most agreed that—ignoring Buttigieg's politics—wearing Tom Ford would be a mistake for an entirely different reason. Profiles of the designer spring up annually, and the talking points in each often fixate on his endless quest for beauty and perfection in the world. (As fellow Jezebel writer Hazel Cills, translates, Ford's aesthetic is: "Basically American Psycho.") Consider Vogue's description of his house:

The house's grisaille calm is offset by a sense of high stakes. [...] Deep pink roses and wine-dark dahlias bring in the only color, just one or two of each in squat vases—Ford hates large flower arrangements. Critics of his second film, Nocturnal Animals, have asked whether its main character, a gallery owner living in stilted isolation, surrounded by trophies, is a stand-in for Ford himself. The answer is yes.
Similarly, stylist Elizabeth Saltzman describes Ford's artistic vision as "the search for perfection, the need to see women look like elegant beings." Perhaps Chasten was aware of the designer's bonkers taste when he declined the initial offer. Donning a Tom Ford blazer could have transformed his husband into a corporate lawyer with an axe to grind, or perhaps a highly successful real estate agent with 3 ex-husbands and warehouse full of luxury cars. Even though Ford simply wanted to impart the candidate with a suit that fits—who knows what sort of Harvard educated private equity monstrosity might have emerged!
The entire staff at Jezebel commends Chasten Buttigieg for his heroic efforts in saving our country from a near-unstoppable threat. And as thanks, I promise to stop quote-tweeting both you and your husband with rude comments for clout. Everyone wins!