Say you're not as famous or celebrated as Roman Polanski and you want to sexually assault underage girls without too much trouble. What do you do? If you're Jeffrey Epstein, you're very, very rich, and you hire high-powered attorneys. Voila.
This week, Epstein finished paying his debts to society, which despite at least 18 women, some underage, telling authorities that the "massages" they were paid for turned into sexual assault — were deemed to be 13 months in the "county stockade," during which Epstein was allowed out on "work release six days a week for up to 16 hours a day," according to the Palm Beach Daily News. He then spent a year on house arrest in his Palm Beach mansion, which somehow included getting to fly around on his private jets and go to "Home Depot and Sports Authority for large periods of time." (Multimillionaire sex offenders: They're just like us!)
It didn't have to be this way: as The Times reported in 2008, "Federal prosecutors initially threatened to bring him to trial on a variety of charges and seek the maximum penalty, 10 years in prison. After years of legal wrangling, Mr. Epstein pleaded guilty to lesser state charges." That legal wrangling was performed by the likes of Harvard professor Alan Dershowitz and several of South Florida's best lawyers, enabled by the money manager's considerable funds — like Mel Gibson recently learned, lawyer friends can be awfully loyal at the right price.
So can the police. According to the Daily Beast's Conchita Sarnoff, Epstein had already made generous donations to the local police department long before he was being investigated. The police chief eventually objected to Epstein's "special treatment."
And according to one legal expert interviewed by the Daily News, referring to the civil settlements paid out to over a dozen of the women involved, "A normal person doesn't have the ability to give justice out in money," Williams said. "The bottom line: when you throw money into the mix, everything changes." The Daily Beast says each woman received "well over $1 million."
G/O Media may get a commission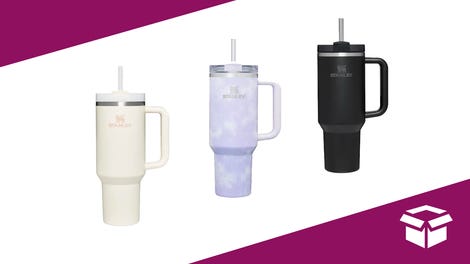 Up to 45% off
Stanley Cup Sale
But Sarnoff also reports that this may not be it for Epstein:
Federal investigators continue to investigate Epstein's activities, to see whether there is evidence of child trafficking-a far more serious charge than the two in his non-prosecution agreement, the arrangement between Epstein and the Department of Justice allowing him to plead guilty to lower-level state crimes. Trafficking can carry a 20-year sentence.
Specifically, such trafficking may have occurred when Epstein traveled on his private jets with foreign girls as young as 12, possibly in connection with a sketchy modeling agency, whose founder mysteriously received $1 million from Epstein. The modeling agency, MC2, has been described as a "conveyer belt, not a casting couch."
Epstein Faces Sex-Traffic Probe [Daily Beast]
For Palm Beach Sex Offender Jeffrey Epstein, House Arrest In Home Stretch [Palm Beach Daily News]
The Billionaire Pedophile's Sex Den [Daily Beast]
Earlier: Why Superrich Guys Feel Entitled To Keep Underage Sex Slaves
Judge Rules Abortion Record Can Be Subpoenaed In Multimillionaire's Sexual Assault Case