So far, our (hungover, sleep deprived) heroes are, in relative terms, coasting: none of the usual van trouble, broken cell phones, or robberies of tours past. This is not to say that all is right with the stars. Let's watch as they cross an invisible border to a magical land where people still smoke cigarettes inside...
3/20/15: CHATTANOOGA, TN / JJ's Bohemia
We sleep in and have late breakfast with my friend Jes's parents at the Local Joint, a diner attached to a gas station. Right after I order, I get a phone call from an interviewer and have to step outside. We talk about my dad, being sad on stage, how lucky I am. When I'm done, we all eat, hug; I am reluctant to leave Jes's parents. They made one of my favorite humans on the planet. I can't wait to come back to Asheville and spend more time with them.
JJ's Bohemia in Chattanooga is a super dope dive bar, all Christmas lights and slack-armed couches and bottled beer. But me, I'm sad for stupid reasons, so instead of enjoying my surroundings, I decide to sit and sulk over a drink. The owner, John, has kind eyes and is sweet to me; we talk about reunion bands and his trip to Riot Fest. He says he made a point to see all the bands who've ever played at JJ's.
G/O Media may get a commission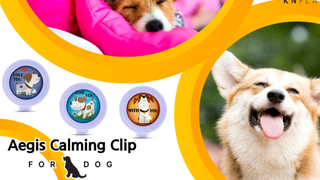 20% off
Aegis Calming Clip for Dogs
I'm old enough to know that solace isn't usually found in the last inch of room-temperature beer. I bought sparklers at a gas station in one of the states where they're legal, so I convince everyone to go outside and play. I burn my thumb on a lighter and photograph my bandmates holding glittering wands in a dark doorway.
Shaun and I decide to lay down in the van to get some peace and quiet. He's one of the best friends I've ever had. We completely fill in each other's gaps, we can communicate without words. He understands me, and when I say that, I recognize the fact that maybe three people ever have actually fully understood me. He keeps this ship afloat. As I'm falling asleep, Ali knocks on the van door and gives me a fistful of daffodils. I'm certain she ripped them from the front lawn of a bank. They smell gorgeous and I press them in my notebook.
Opening tonight is a pseudopsych band called Mad Libre, made up of boys in polyester 70s floral shirts, followed by a dreamy post-rock-emo-whatever band called Elk Milk. The crowd seems unnaturally happy, and JJ's starts to look like a cool party in a '90s movie, maybe a five-year high school reunion. When we play, my shirt won't stay tucked in, so I keep sticking my hand down my pants. I'm sad and I can't look anyone in the eye. As usual, I feel better by the time we finish. A young man with a close-cropped beard approaches me, tells me that I am radiant. He gives me a small amount of mushrooms, which I tuck away in my bag. We talk about his life as a landscape architect, and his dreams of going back to school. In the moment, after hearing about his dreams, I realize I'm too scared to tell him about mine.
3/21/15: HATTIESBURG, MS / Thirsty Hippo
It's snowing, then it's raining, then the drive takes three hours longer than expected. I'm nervous to meet up with Deerhoof. If you'd told fourteen-year-old me that someday I'd be on tour with them, well, I would have tried to expedite the process—Apple O was one of the CDs my dad bought me for what came to be regarded as an Infamous Christmas (along with Sleater Kinney's One Beat, an Apples In Stereo record, and Le Tigre's remixes). 13 years later, we're their opening band. Whoa.
En route, Tom introduces us to a MENSA-level word game called "pogo." He jumps right in without explaining the rules, which I come to find is the trick of it. We run in circles, me, Shaun, Ray and Tom. My brain hurts. I'm using every last weed-warped cell in my shitty little brain to crack Tom's code. I go way overboard: alphabetical order, numerical sequences, hand gestures, rhyme scheme, alliteration, cultural references, I fail, I fail again. Tom is laughing at me, and I think about our breakfast with Jes's parents in Asheville, when Jes's dad said Tom and I looked like an old married couple who were too tired to bicker. It takes me half an hour to catch on. I get it after Shaun, but before Ray. I'm pleased as a motherfucker when I finally get the joke. Turns out I can pogo too.
The rain makes us late. Hattiesburg, like Harrisonburg, is a small town with an active local scene. Before the show, people hang out in the front room blowing up LED balloons and twisting them into headpieces. Fred Thomas opens, singing his fast-paced, laptop-backed songs about love and cops and loss. When we play, kids bat bright balloons back and forth across the room. My mic dies halfway through the set but I keep screaming.
Deerhoof is somehow even greater than I expected. Satomi is wearing a denim t-shirt dress covered in patches, one of which reads "IT'S BEHIND YOU." She dances more onstage than I do. They play through a fair amount of Isla Bonita, they rip through some old songs. Ed is wearing what looks like a minimalist mariachi outfit and plays on an all-red guitar. I feel like I've been waiting for this moment for so long. It's magical to see the music unraveling in front of my eyes. I'm watching explanations—the complicated sounds I've cherished for so long, being made right there in front of me. It feels like a reward. They encore with "Come See The Duck." This is heaven.
3/23/15: ATLANTA, GA / The Earl
Worst nightmare: waking up to my phone telling me I have messages from "Mom (6)." I think I'm in trouble until I open the texts to find that the issue of Bust magazine that has my name on the cover and a flattering picture of me inside has hit stands, even in our sleepy hometown. She's texting me pictures of the pages—and letting me know that she spread the available copies out all over the newsstand in an act of pseudo-vandalism. Cute! My mom is proud of me! That's such a good feeling.
Atlanta's Little 5 Points neighborhood is made up of restaurants, vintage boutiques, new age stores, record shops—it more than meets the needs of six weirdos trying to explore the city. Everyone in the band is pretty dippy about weird clothes, so we start at Rag-O-Rama (recommended to me multiple times over by my Twitter followers, who I swear to god are the nicest people on earth). The best thing about Rag-O-Rama is that it's cheap; the worst is that most of their stuff is modern resale, not vintage. However, I find a 1980s navy satin Liz Claiborne blazer-front jumper for $15. We have arrived.
Ali and I are still half-asleep so we walk to Aurora Coffee for a date. I have a gluten free chocolate chip brownie that's so good it stresses me out (or maybe that was the Wall Street Journal).
After that, we hit one of the bigger vintage shops we saw in the neighborhood, The Clothing Warehouse. Turns out this is more or less the nicest vintage shop I've ever been in. The top floor is known as the Dress Room, which makes sense, because it's wall-to-wall beautiful vintage dresses. Organized. By. Color. In rainbow order. Holy shit. I buy a 1920s-style Laura Ashley sailor outfit, complete with beige satin turban. It's obvious that vintage shopping in the South is better than pretty much anywhere else in the world.
The Earl has the nicest sound system (and nicest sound guy!) of any venue we've been to in recent memory. Our soundcheck is quick and painless. I hole up in the green room to write while my bandmates get food in the front restaurant. When I finally join them, I am greeted with baskets of boiled peanuts and tater tots. The Earl is incredible. The only downside is that they allow smoking in the front bar (and usually in the back as well, although tonight there are signs up saying smoking is off-limits at the request of the bands—thank you!). But hey, when in Rome.
I'm incredibly inspired by Fred Thomas. He's brave, getting up there alone. I admire his ability to make constant eye contact with his audience while playing complicated guitar parts and singing such amazingly vulnerable lyrics. I am too nervous to talk to him so instead I try to bore holes in his brain and fill them with compliments using only my eyes and the power of positive thinking.
Deerhoof is astounding. We get to spend a little more time with them tonight, which is nice—I think everyone in our band, especially me, can be so skittish when it comes to making friends with other bands. We don't want to be intrusive or annoying, so we tend to stick together. Deerhoof is so friendly and welcoming, though; they've already made us feel right at home. We share snacks now. I've made it my mission to make Greg, their drummer, laugh as much as possible—he has this high-pitched, top-volume howl that comes from somewhere deep in his gut. It can probably peel paint off walls. I'm trying to memorize the sound.
3/24/15: NASHVILLE, TN / The Mercy Lounge with Fred Thomas, Deerhoof
These entries are getting less and less interesting as the drives get longer. Eight hours in the van, see a couple of gas stations, everybody farts, then we're at the venue. The Mercy Lounge is part of a larger venue and Circa Survive is playing downstairs. Kids with flat-ironed bangs and little plugs in their earlobes are lined up around the block. Many of them are obviously young couples on dates. They all look so excited. It's sweet.
We don't have time to eat, so we order a pizza and wings to the venue. According to the online tracker, it's expected to arrive during our set. We all sort of hope they deliver it straight to the stage. My friend Joel is waiting for me by the bar with his new girlfriend, who is really cool; they brought me a jar of bright purple tulips. I am so lucky.
It's our last night with Fred Thomas. It's wonderful, again, seeing how one person can hold the attention of a whole room. I put my makeup on, pull my hair back and get dressed slowly, feeling like he's playing the soundtrack to a film about a little band from nowhere out on tour in Nashville.
The first person I see when we walk out onstage is my good friend Jake Giles. He's a music photographer who shoots most of the bands that come through Nashville. He's taken some of the best photos of us ever. We never need to check if he'll be at our shows—he's always there to support us. It's such an amazing feeling to know your friends will show up for you. We played like psyched-up tipsy lunatics and bewildered a lot of youths. It was probably our best set of tour so far.
Kids absolutely explode as soon as Deerhoof starts to play. Greg is wearing jeans that have the continents of the southern hemisphere painted on them and a shirt covered in patchwork flowers. Ed's in his usual handmade outfit, and Satomi is wearing a loose cotton dress covered in what look like dinosaurs, or maybe farm animals.
Nashville is one of the most gorgeous cities in the country. I've been here three times and I've barely seen any of it. I often wonder what people think touring really is. There's something profoundly frustrating about never having time to explore the city you're in. A lot of people have the idea that tour is this fun, sexy, boozy romp across the country where your needs are met and you spend every night being revered for the rockstars you are. I want all those people to do a week of eight-to-ten hour drives in a cramped van, only eating gas station food, visiting the most exciting cities in the country and not being able to hang out. You've gotta go to bed between two and four AM every night and then be back in the van by ten the next morning to do it all over again. You've got to try and hold on to your job, relationships, and your wits while maintaining this schedule.
And at the same time, you need to remember, every single second, that you have the best job in the fucking world, because you do. Just because it's difficult and anxiety-inducing doesn't mean it isn't incredible. It's all I want to do forever. I'll get to Nashville when I retire.

All images courtesy of Ali Donohue, Perfect Pussy's bassist and ace tour photographer. The last of three installments in this tour diary will go up next week.

---
Meredith Graves runs a small record label called Honor Press, writes about feminism and culture for many places (but mostly Rookie), and is the frontperson of Perfect Pussy. Right now her favorite things are tuna salad sandwiches, Maggie Nelson's Bluets, and wearing party dresses to the grocery store. She's writing a solo record, which will be out eventually on Captured Tracks.