National Grilled Cheese Day (not to be confused with National Comfort Food Day) is Sunday, April 12, which is fast approaching. With its arrival comes our annual reminder of a harsh truth: people who eat a lot of grilled cheese sandwiches are better and happier than people who don't.
Skout ("the leading social platform for meeting new people") interviewed over 4,600 people for a highly scientific survey and found that people who love grilled cheese sandwiches are more likely to donate to charity and likely to travel. Great, very good, excellent, nice.
FURTHERMORE:
73% of people who love grilled cheese sandwiches have sex at least once a month vs. 68% of those who don't care for the sandwich.
32% of grilled cheese sandwich lovers have sex at least six times a month vs. 27% who pass on the melted goodness.
What Skout did not dig into was why these people loving grilled cheese have slightly more sex than those who don't love the good stuff. They probably thought the reason was obvious. I agree, but let me paint a PG-13 scene for those of you slow on the uptake:
FADE IN
INT. BEDROOM - NIGHT
GIRL and BOY lie side-by-side in bed together, slightly sweaty. BOY looks ready to pass out. GIRL looks contemplative.
G/O Media may get a commission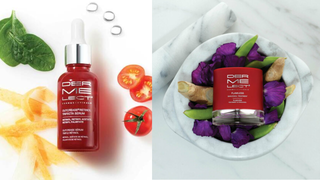 Save $19
Retinol Renewal Kit
BOY
That was...good.
GIRL
Yeah. Listen, you hungry?
BOY
I could eat.
GIRL
Cool, lemme rustle something up.
FADE IN
INT. KITCHEN - NIGHT
GIRL and BOY sit at the kitchen table enjoying a delicious set of grilled cheese sandwiches. (Sourdough bread, extra sharp cheddar cheese, ketchup available for dipping.) They smile at one another.
CUT TO
WEDDING SCENE tk.
Image via Joel Kraut/Flickr
---
Contact the author at dries@jezebel.com