Right in the midst of a global uproar over Donald Trump's arbitrary decision to move the U.S. Embassy to Israel from Tel Aviv to Jerusalem–a declaration which sparked tear gas and fires in Lebanon, Israeli gunfire and an air strike over Gaza, four Palestinians dead, hundreds injured, an emergency UN Security Council meeting–the New York Times published a review of panicky scribbled pages from the Burn Book which is the mind of Donald Trump.

According to White House aides, some politicians, and "people close to Mr. Trump," the Times reports, the president consumes twelve Diet Cokes and four to eight hours of television per day, which he puts on mute during meetings:
People close to him estimate that Mr. Trump spends at least four hours a day, and sometimes as much as twice that, in front of a television, sometimes with the volume muted, marinating in the no-holds-barred wars of cable news and eager to fire back.
He brags about how he can have anybody over whenever he wants because nobody's the boss of him:
"I can invite anyone for dinner, and they will come!" Mr. Trump marveled to an old friend when he took office.
G/O Media may get a commission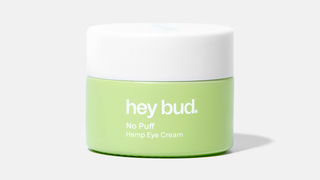 15% off
Hey Bud - No Puff Hemp Eye Cream
He shows off his toilets, for some reason:
He has an odd affinity for showing off bathrooms, including one he renovated near the Oval Office, and enjoys pulling dinner companions into the Lincoln Bedroom or onto the Truman Balcony for the postcard view of the city he has disrupted.
He desperately wants to look cool to John Kelly and calls him like all day:
Despite chafing at the limits, the president actually craves the approval of Mr. Kelly, whom he sees as a peer, people close to Mr. Trump said.

He calls Mr. Kelly up to a dozen times a day, even four or five times during dinner or a golf outing, to ask about his schedule or seek policy advice, according to people who have spoken with the president.
And accurately, he believes that we're all living in an unscripted TV show starring Donald Trump:
Before taking office, Mr. Trump told top aides to think of each presidential day as an episode in a television show in which he vanquishes rivals.
The portrait is terrifying because there are violent consequences to the perception that there is some kind of fully-formed adult brain operating inside of this orange cantaloupe. Today a CNN reporter wrote that conversations with Palestinians revealed a mindset that Trump is the "true face of America."
"They say that Trump is finally revealing the true America that previous presidents had managed to hide."
Today, Nikki Haley, ambassador to the United Nations–which considers East Jerusalem to be occupied Palestinian territory–was asked by Fox News Sunday (which Trump was definitely watching) to explain how the Jerusalem move is going to help the peace process. She didn't answer the question, but said that the decision is the "will of the American people" and the President "said it's time," and somehow all of this will "fastball" the peace process. Even Chris Wallace sounded mystified.
Clarification: This post has been updated to reflect that Chris Wallace on Fox News Sunday had the exchange with Nikki Haley.