Promoting risky medical decisions is becoming a trend for People: This week, the Duggars share pictures of their 19th child, who was born premature, and declare they're open to having more kids because, "You can't let fear direct your lives."
Though Josie Brooklyn, who was born three months premature on December 10 and weighed only 1 lb. 6 oz., is still in a neonatal intensive care unit, Jim Bob and Michelle Duggar feel now is a great time to address their critics in People. "The negatives don't bother us" says Jim Bob, "Our hearts haven't changed."
For those of you who wondered if Josie being born at just 25 weeks would change the Duggars' commitment to not using contraception, the answer is a resounding no. According to People:
[The Duggars] remain committed to their belief that "each child is a gift from God" and are open to having more. Michelle knows how their position is likely to be viewed, particularly following Josie's arrival. "When I say we would love more children, we open ourselves up for attack," she admits.
So why make a public announcement about your family plans, especially when Josie and Michelle's health situation is still so unclear? Unlike the Heidi Montag plastic surgery cover story, People quotes several medical sources in the article. They all say more pregnancies would be harmful to the Michelle and the child, including obstetrician Dr. Jeffrey Richardson, who warns that after four children, pregnancies become much more dangerous and, "postpartum hemorrhage, dysfunctional labor, preterm labor and early miscarriage are all risks." The article also mentions that while Michelle became pregnant with Josie six months after her last pregnancy, the American College of Obstetricians and Gynecologists recommends spacing out pregnancies by at least 18 months.
G/O Media may get a commission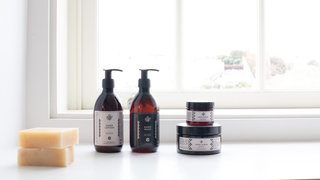 Exfoliate and Hydrate
The Handmade Soap Company
It's not even clear at this point if Michelle, who is 43 and was diagnosed with preeclampsia while pregnant with Josie, can have more children. Usually, the Duggars only method of birth control is following the Biblical recommendation to abstain from sex for 40 days after having a boy and 80 days after having a girl. "It is not as if we're going for another [baby] immediately. This is going to be a year of different focus for me, getting Josie through her first year of life," says Michelle.
Of course, Michelle has a right to do whatever she wants with her body, but that doesn't make her decision to appear in People any less questionable. It's hard to say which is the stranger symbol of how our society treats pregnancy: Kourtney Kardashian's baby appearing on four tabloid covers in his first month of life, or Josie Duggar appearing on the cover of People with a tube taped to her tiny face seven weeks before her due date. The public is curious about the Duggars and the TLC show 19 Kids and Counting provides some of the money to raise all those children, but do we need to read quotes from Michelle and Jim Bob about their reproductive decisions wrapped around the photo above, of their newest baby fighting for her life? It's bad enough that tabloids are mainly focused on how fast moms lose the baby weight, but People has achieved a new low by focusing more on the novelty of a 20th Duggar that the health of the 19th.
Baby Josie Duggar's 18 Siblings Getting To Know Her Onscreen [People]
The full article is available in the February 15, 2010 issue of People.
Earlier: Hey, Nineteen
Just Perfect: People Glamorizes Plastic Surgery Addiction
The "Baby Weight" Obsession: Officially Out Of Control