At least 30 people attending a conference Thursday night by motivational speaker Tony Robbins were badly burned after walking over hot coals. Everyone was stepping on hot rocks to "unleash the power within." As sometimes happens, the power within got too hot and five people were hospitalized with burns to their feet and lower extremities.
Robbins was in Dallas for a very lit—I'm sorry, I'm so sorry—three day event. The "Firewalk" is one of Robbins' things; as he explains it, fire is "metaphoric symbol for triumph and tribulation:"
The firewalk, essentially, is a metaphor for whatever it is that is stopping you or holding you back from living a fulfilled life. Walking over those hot coals is a symbolic experience that proves if you can make it through the fire, you can make it through anything.
Even Oprah did it once:
In addition to their metaphorical weight, though, live coals are also really goddamn hot.
G/O Media may get a commission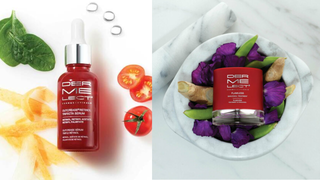 Save $19
Retinol Renewal Kit
After five people were carried out with their fears presumably unconquered and their feet scorched to shit, Robbins Research International issued a statement quoted by the Dallas Morning News, blaming some narc for calling 911:
"In Dallas tonight, someone not familiar with the fire walk observed the event and called 911 erroneously reporting hundreds of people requiring medical attention for severe burns. While we are grateful to the quick and robust response from Dallas emergency services, only 5 of 7,000 participants requested any examination beyond what was readily available on site. We are pleased to have completed another successful fire walk for 7,000 guests and look forward to the remainder of an outstanding weekend with them."
Dallas Fire and Rescue told the newspaper that "30 to 40 patients" were seen onsite, but most people elected not to be taken to the hospital. A trainer associated with the Robbins organization stressed to the Associated Press that "this has nothing to do with Tony Robbins."
It's unkind to make fun of people who have hurt themselves. I'm not doing that. Some other people on the internet are, though.
The seminar continues through the weekend, if you're looking to conquer an irrational fear of having your feet roasted like a wayward S'more.
---
Robbins during a TV taping in March. Photo via AP