The U.S. Department of Education announced this week that it will be looking into Penn State's handling of sexual harassment and assault reports in order to see if the administration has responded "immediately and appropriately" to complaints.
According to a statement from the ED's Office for Civil Rights, the investigation was prompted by the office itself, after noticing "a dramatic increase in the number of forcible sex offenses occurring on campus as reported by the university itself." To say the increase is "dramatic" is a bit of an understatement: 56 forcible sex offenses were reported in 2012, a fourteen-fold increase from 2010. Suspiciously, this spike coincides with the aftermath of 2011's Sandusky scandal — so, the ED will investigate whether the numbers pre-Sandusky were improperly handled, thus keeping report numbers artificially low.
According to the university's Clery Act compliance manager, Gary Gates — who was hired in 2012 — over half of the reported offenses in 2012 actually occurred in earlier years, ranging from the 1970s to 2011. According to CNN, he stated in a news release that the increase may be due to the additional Clery Act training that's been provided to 5,000 individuals at Penn State, who now have "greater awareness of how to report these crimes and what resources are available to victims and witnesses."
As Kristen Houser, the vice president of public relations at the Pennsylvania Coalition against rape, told the Pittsburgh Post-Gazette: "An increase in reports doesn't mean an increase in incidents. It's an increase in confidence that you will get [the support] you need." That's very apt, so it's pretty damning that a mere 56 sex offense reports — out of a student body of 45,000, 46% of whom are female — is seen as unprecedented. According to recent statistics released by the White House, 1 in 5 female college students will be assaulted by the time of their graduation. It does not take a math genius to recognize that there is a large discrepancy between one in five and 56 in about 20,700. It's evident that Penn State, like every other college in America, is plagued by an extremely egregious under-reporting problem.
A spokesperson for Penn State told CNN that the university is "is looking forward to working with the Office for Civil Rights on this proactive compliance review in order to further the purposes of Title IX, promote and protect the safety of the Penn State community and strengthen Penn State as an institution." Meanwhile, Obama's sexual assault Task Force is hammering out new guidelines on how to combat our nation's ubiquitous campus rape problem. All of this is wonderful and laudable and an inspiring, necessary step in the right direction. However, unless we listen to the perspectives of survivors and activists and take their needs seriously, it's likely that we'll perpetrate a culture in which sexual assault survivors don't feel comfortable coming forward, and no amount of government intervention will change that.
G/O Media may get a commission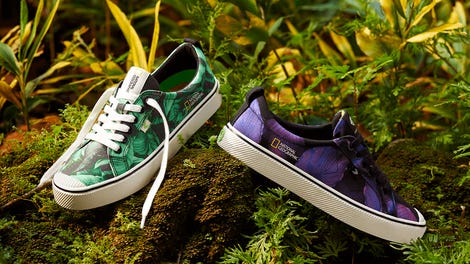 New New New
Cariuma + National Geographic
Image via AP.