For all the time the fashion business spends chasing the next big thing, for the towering names of the industry, the past is tremendously valuable. It's also an incredible amount of work to maintain and very expensive.

In a fascinating piece at the New York Times' T magazine, Alexander Fury examines what goes into preserving the archive of a great fashion house. The effect, he says, is like a crypt or a shrine. One which I would happily donate a kidney to rifle through, of course:
THE ARCHIVES OF BALENCIAGA, the 100-year-old fashion house, are held in a raw concrete warehouse space in Paris. There are 6,000 items in total — sculptural silk ball gowns and cocoon-shaped coats and a tobacco-brown chenille-embroidered lace coat once owned by Wallis, Duchess of Windsor — all shrouded in calico garment bags. Especially delicate pieces are wrapped in acid-free tissue paper to protect against dust and moths and are laid to rest in cardboard boxes referred to in the business as ''coffins.''
Few things whisper of ghosts quite so insistently as the clothing of the past.
The task of these places is a little like preserving an illuminated manuscript from the Middle Ages, except those were actually created with an eye to divine eternity. A beautiful couture gown from 1954 was more likely created with an eye toward pleasing a picky rich woman who would surely be back next year to commission more and therefore necessarily somewhat ephemeral. Now, Fury writes, the past is very valuable for "heritage" brands like Balenciaga and Dior: "The archive is the petri dish for designs of the future. History in the hands of these houses has become a valuable, marketable commodity to build upon, cultural capital that can't be bought." He goes on to trace the history of this obsession with history, which he pegs to Karl Lagerfeld and the way he has played with Chanel's past, beginning in the early '80s. (It's probably not a coincidence that the same span of time has seen the rise of the blockbuster museum exhibit dedicated to fashion.)
G/O Media may get a commission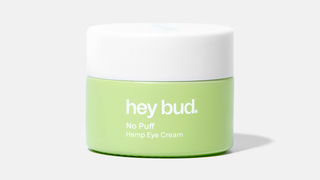 15% off
Hey Bud - No Puff Hemp Eye Cream
But as Fury makes clear, it's a delicate dance, cribbing from the past while still creating something new and true, and without just totally freezing yourself over at the thought of trying to work in the shadow of a legend like Christian Dior or Yves Saint Laurent.
Wonderfully, the piece includes a video of the process of packing away a Dior gown into one of those "coffins." Read the full article, which is full of fantastic details about the delicate art of costume preservation, here.