Dr. Bob Sears, a pediatrician from a family of vaccine-criticizing doctors, could lose his license after California's state medical board says he failed to immunize a toddler who didn't truly need a medical exemption. The board accuses Sears of "gross negligence" for not vaccinating the child after relying on an incomplete medical history from the boy's mother.

The Los Angeles Times reports that Sears, 47, could have his right to practice medicine suspended or revoked. The complaint filed by the medical board says that Sears saw a two-year-old child in April of 2014. The boy's mother told Sears that after her son's last vaccine he'd gone "limp like a ragdoll," didn't urinate or defecate for 24 hours and "wasn't himself" for the next three months. Ten days later, Sears wrote a letter exempting the child from all future vaccinations. In the letter, Sears wrote that the boy's kidneys and intestines "shut down" after the prior vaccination, and that he'd had a "severe encephalitis reaction" ten minutes after getting the vaccine, one which lasted 24 hours.
In a later visit, the complaint says, the child complained that he'd been "hit on head with hammer" [sic] by his father. (It appears, from the complaint, that the matter was referred to social services and any allegations of abuse were found to be unfounded.)
The medical board says that Sears failed to do a neurological examination on the child during that visit, or any other additional physical exam. The complaint also says Sears didn't keep records of his vaccine letter on file. He saw the boy several more times that year and the following year, once for a possible flu and once for an upper respiratory illness.
Sears wrote a book promoting alternative vaccine schedules, The Vaccine Book: Making the Right Decision for Your Child, in 2011, and is hailed as a hero by blogs like Age of Autism that claim, incorrectly, that there's a link between vaccines and autism. Age of Autism was excited to note that Sears' book claims that maybe there is a link between vaccines and autism that just hasn't been proven yet (there is not). From Sears' book:
I generally recommend that any child diagnosed with autism not receive any more vaccines. Now, this is a very bold statement, considering that the majority of current research does not support a link between vaccines and autism. However, research has not proven there is no link, because no study has ever compared the rate of autism in a large group of unvaccinated children with the rate in a large vaccinated group. This type of placebo-controlled study is the gold standard of medical research. (p. 336)
G/O Media may get a commission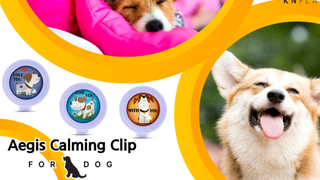 20% off
Aegis Calming Clip for Dogs
This is pretty consistent with how the Sears family appears to see things. Sears belongs to a practice headed by his father Bill, an author and well-known proponent of attachment parenting. Dr. Bill, as he's widely known, told the New York Times in 2008, as the anti-vaccine movement was ramping up, that he didn't see vaccines as being "critical" to public health.
"I do think vaccines help with the public health and helping prevent the occasional fatality," he said, adding: "I don't think it is such a critical public health issue that we should force parents into it. I don't lecture the parents or try to change their mind; if they flat out tell me they understand the risks I feel that I should be very respectful of their decision." Bill Sears' other son, Jim, appeared in the anti-vaccine documentary Vaxxed.
A situation like this was virtually inevitable, after California passed a law last June disallowing "personal belief" exemptions for vaccines. It seemed likely that parents who really didn't want to vaccinate their kids would seek medical exemptions instead, and find doctors willing to grant them.
The accusation from the medical board says that Sears left the child and "his future contacts at risk for preventable and communicable diseases." He'll now face a hearing on the allegations.