The internet isn't always the kindest place, but this year Regretsy.com tried to use its powers for good rather than evil by donating money to buy Christmas presents for the children of readers who are going through hard times. The campaign was so successful that Regretsy determined it would be able to send the parents a little money too, in the hope that it would "help them make their holiday dinners more special, or maybe pay a pressing bill." Luckily, PayPal caught on to this dastardly plot just in the nick of time. Now it's making the site refund hundreds of donations — all because she unwittingly used the wrong button to collect the money.
A few weeks ago, Regretsy.com owner April Winchell (who writes under the name "Helen Killer") announced her plan to organize a gift drive and began accepting applications from parents who can't afford to get their kids gifts this year. Regretsy came up with a list of 200 children, including siblings whose favorite toy was destroyed by bullies, kids whose parents are ill, and others who are sick themselves. The goal was to raise $4,000 to buy a gift the child asked for. They even threw in a personalized letter from Santa (or rather an Etsy seller in communication with the North Pole).
Donations came pouring in and Regretsy reached its original goal within a few hours. The site started ordering the toys and announced it would use the extra donations to send some money to the kids' parents. Santa's letters went out to the kids, and the site started receiveing tearjerking thank yous from parents, such as:
"I just wanted to say we received the letters from Santa today, and I cried so hard. I needed that happiness like you can't imagine. My older son read his and was so happy. Thank you guys for what you're doing for all these families and all these kids. While its embarassing to ask for help, and humiliating that I can't give my kids anything this year, I can't even put correctly into words the feeling I get to know that they are cared for, even by strangers."
Everything was going swimmingly, until PayPal put a hold on Regretsy's account. Apparently, Regretsy was collecting money using a PayPal button that read "Donate" rather than "Buy Now" or "Shopping Cart." Though it doesn't clearly state this anywhere on PayPal's site, the "Donate" button is for non-profits only, and can't be used by corporations doing a charity drive. After making Winchell, a longtime customer, submit reams of documentation (while she was on a trip to Europe, no less), PayPal decided that she should refund all of the money the site collected.
But wait! We haven't even gotten to the truly Grinchy part yet. While processing hundreds of refunds, Winchell noticed that according to PayPal's policy, it gets to keep the fees it collects from the transactions. Winchell then tried to continue the drive while adhering to PayPal's rules by using a "Buy Now" button. She explains:
Since these toys are already purchased, I decided to offer them up for sale on this site, just like any other retailer would. You could buy them according to what you wanted to spend, and we would send them on to the recipient of your gift, just like any other retailer.
G/O Media may get a commission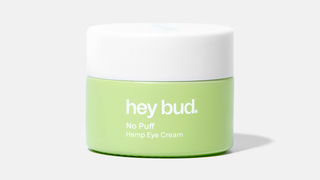 15% off
Hey Bud - No Puff Hemp Eye Cream
But, PayPal quickly put a stop to that. According to highlights from Winchell's phone calls to the company, a PayPal representative (who should teach classes on horrid customer service) told her, "It's too late, we know what you're trying to do and we're not going to let you do it." PayPal will not be hoodwinked into helping you help the less fortunate! Unless of course, we're talking about adorable kitties, not humans. Winchell writes:
PAYPAL: Only a nonprofit can use the Donate button.
ME: That's false. It says right in the PDF of instructions for the Donate button that it can be used for "worthy causes."
PAYPAL: I haven't seen that PDF. And what you're doing is not a worthy cause, it's charity.
ME: What's the difference?
PAYPAL: You can use the donate button to raise money for a sick cat, but not poor people.
Thankfully, most of the donations to cover the toys had already been processed, so the children will be getting their gifts. However, PayPal put a hold on both Regretsy's account and Winchell's personal account, so donation money won't be going out to their families. Yet miraculously, PayPal is still getting paid. It's keeping all of the fees it charged from gifts collected via the "Donate" and "Buy Now" buttons, which Regretsy is being forced to return. Many other organizations have had similar problems with the site, but PayPal hasn't created clearer guidelines or agreed to waive its fees when it bungles a transaction. Perhaps Winchell should take the PayPal rep's suggestion and start collecting money for an ailing feline. Then when the cat recovers she can stuff some money in its collar and aim it in the general direction of the needy family's house. The sick cat just might do a more effective job than PayPal.
An amusing-but-baseless-and-probably-incorrect theory: Someone at PayPal has an Etsy shop, and their wares have been panned by Regretsy. As of right now, it's the only fathomable explanation for such fuckery.
We've reached out to PayPal and are currently awaiting comment. More as we know it.
Update: Heather Norton, a representative of Access Communications working on behalf of PayPal, sent us a statement saying PayPal recognizes it made a mistake and is working to correct it. Here's the statement in full:
We can't comment specifically on the Regretsy.com account due to our privacy policy. However, we can confirm that the funds have been released and we are working directly with the account holder on this matter. We are working with Regretsy to make a donation to help their cause. We're very sorry this occurred.

For reference, we have clear guidelines for any business who uses PayPal to accept donations. For example, we require certain documentation to prevent misuse of the donated funds and, if the recipient claims charitable status, to determine whether they are properly registered. As a regulated payment service, we're also required by law to follow these guidelines.

We appreciate that this can be an inconvenience, but we have a responsibility to all our customers – both donors and recipients; or buyers and sellers. In this instance, we recognized our error and moved as swiftly as possible to fix it.
Secret Santa [Regretsy]
YOU PEOPLE MAKE ME SICK [Regretsy]
Quick Santa Fund Update [Regretsy]
Buttons For Donations [PayPal]
Fuck You, Paypal [Regretsy]
Diaspora Becomes PayPal's Latest Victim [ReadWriteWeb]
Image via egorov1976/Shutterstock.