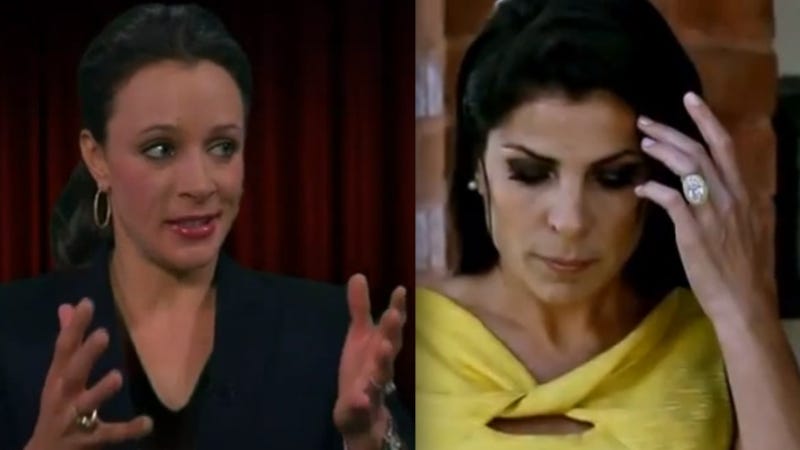 Since we inexplicably still care about this, I guess, both of the women with whom David Petraeus had his sexual dalliances have been over in the vicinity of WHOTUS (I keep trying to make WHOTUS happen; it's not going to happen) in the last few years. The only real-ish gossip here is that Tampa "socialite" Jill Kelley, who the media learned of after Petraeus had already resigned due to his affair with Broadwell, has been to the White House three times in the last few months—once for a tour, and twice to have dinner with her sister and an unnamed White House staffer who met Kelley and her family at an air force base. The last time she broke bread with this dude was on November 4th, 5 days before Petraeus publicly left his post as director of the CIA due to "poor judgment" regarding his affair with Broadwell.
The media's now painting Kelley and her twin sister as sort of the Middleton siblings of MacDill Air Force Base in Tampa, where they've developed reputations as "aggressive social climbers" who "flirted their way into the good graces of high-level officers" all over the base. It was also disclosed a few days ago that Kelley has exchanged "flirtatious emails" with Joe Allen, a top commander in Afghanistan. If you're still confused about how this all connects, this janky-ass Fox News affair flowchart is kind of helpful, though it begs the question of why Alice McCutcheon's chart on The L Word is more comprehensible than that of, you know, a major news outlet. The Daily Beast has taken to calling MacDill—specifically, the boulevard that extends from downtown into the base itself—the "Wisteria Lane" of Tampa. Although it's not explicitly mentioned why Desperate Housewives is the specific reference, besides the partying, one can only assume it refers to Kelley and her fellow "bored housewives" lurking around and trying to grab some unsuspecting military peen. (As if the actual military peen have no autonomy here.)
For her part, Broadwell spoke to a national security staff member about Afghanistan and Pakistan policy back in June 2009 and attended a briefing on the subject with 20 others in the summer of 2011. White House officials say that neither woman has met President Obama, probably because he is too busy doing THISSSS.
'Tampa's 'Wisteria Lane': Petraeus, Broadwell, Kelley-and a Culture of Climbing' [The Daily Beast]
'Women in Petraeus scandal had visited White House' [USA Today]