Much to the disappointment of slavering headline writers everywhere, authorities say that the car accident that killed Paul Walker and friend Roger Rodas was not the result of illegal drag racing. They weren't even going that fast. They just failed to slow down around a curve.
This according to a law enforcement source, who told NBC News that the L.A. County Sheriff's Department's preliminary assessment is that the 2005 Porsche Carrera GT was traveling at approximately 40 to 45 miles per hour in a 45 mph zone and the driver apparently lost control while rounding a bend, where the speed limit dropped to 15 mph.

The Sheriff's Department had previously confirmed that people had reported seeing the Porsche traveling at a high speed and that no eyewitness had contacted authorities about seeing a second vehicle.

Authorities had previously noted that the crash location was a popular spot for street racing and, per CNN, an anonymous tipster had called authorities about a second car possibly being involved.
Sometimes horrible shit just happens. [E!]
---
Claire Danes finds motherhood exhausting, but is looking forward to spending Christmas with family in Paris.
She told 'Live with Kelly & Michael' on Tuesday (03.12.13): ''He's the best, but I'm a little partial. I keep wondering what was more exhausting - being pregnant or having a person out in the world that I am very responsible for. I haven't decided yet. It's a toss up.''

She added: ''The more of a person he becomes, the more dynamic he becomes, the harder it becomes.''

The 34-year-old star also gushed about her husband Hugh Dancy, 38, and joked he is out of her league.

She said: ''I definitely married up! His family has a house in France. It's the family home where we got married. It sounds fancy doesn't it?''

Claire is looking forward to ''a pretty good run at domestic life'' with her family in Paris now that the third series of her drama has wrapped.
G/O Media may get a commission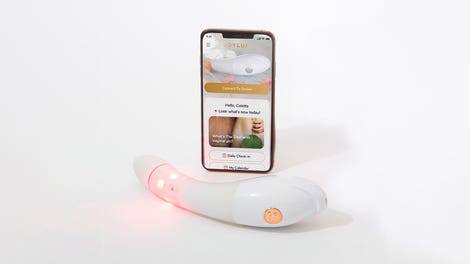 $50 Off
Joylux vFit Gold Device
God, Claire, have you been reading my diary? It's like, get your own life!!! [ContactMusic]
---
Christian Slater got married to some other lady, so I guess my dream of a Young Guns II-themed wedding is officially dead.
The 44-year-old Nymphomaniac star and his girlfriend of a few years Brittany Lopeztied the knot in Coral Gables, Fla. yesterday, E! News confirms. According to the couple's marriage license, they wed in front of a judge at a local Miami area courthouse.

...Slater said that he met Lopez when he was staying on Florida's Little Palm Island a couple years ago. "This girl came walking along with another lady, a slightly older lady, and I was sitting in my usual spot eating my oatmeal that morning," he explained to Fallon. "So I'm a filthy old man eating my oatmeal and she comes walking along. This spot, I guess, was famous for people proposing to each other, actually. It was very, very nice. So she's there with this old lady and, next thing I know, she gets down on one knee and proposes to this older lady...I'd seen a lot of crazy stuff down in the Florida Keys! I of course was very intrigued and I went over and sat down in my other usual spot."

"I thought I'd just witnessed a nice lesbian engagement so I was coming over to say congratulations," Slater continued. "But it turns out it was her aunt and she was just trying to help her aunt capture the beauty and the romance of the park...The next thing I knew we were hanging out in the Everglades."
Lolloloololol, just "coming over to say congratulations" when you know you're Christian Slater is like IRL Googling yourself. [E!]
---
Malin Akerman's estranged husband Roberto Zincone has filed for divorce to spend more time with his facial hair. [E!]
Billy Ray Cyrus bought Miley this gigantic ugly tricycle. [TMZ]
Gerard Butler went swimming and his shirt shrank. [JustJared]
Zac Efron HATES FOREST FIRES. [JustJared]
Do we have to do bikini body posts about 17-year-old girls? Do we? Are you sure? [E!]
Ryan Murphy has invited the entire original cast of Glee back for the show's 100th episode. [Us]
Kate Middleton wore a tiara to a party because FUCK YEAH SHE DID SHE'S A LITERAL PRINCESS. She's one of the only people in the world for whom it'd be socially acceptable to wear a tiara every goddamn day. I'd never NOT be wearing a tiara. I'd have a special pooping tiara made out of Jared's "chocolate diamonds." I'd do it. I would. [E!]
Billy Joel has signed on for a monthly residency at Madison Square Garden. [ContactMusic]
Bill Beckwith, the 38-year-old star of HGTV's Curb Appeal, passed away in a motorcycle accident in San Francisco. Condolences all around. [E!]
Diane Keaton will accept Woody Allen's Cecil B. DeMille Award on his behalf at this year's Golden Globes. [Deadline]
In honor of Mr. William Joel's upcoming residency:

Image via Getty.