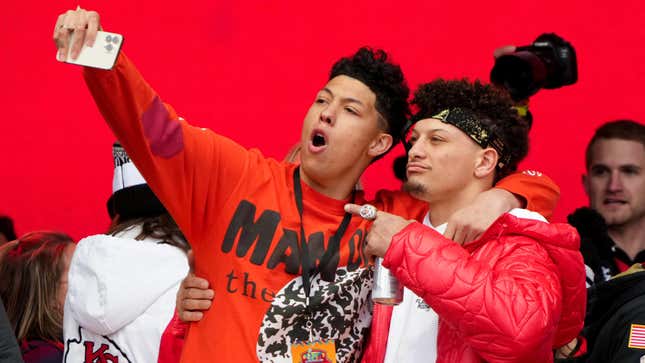 It's been quite the year for the Mahomes brothers. The more famous and talented one recently won his second Super Bowl with the Kansas City Chiefs, and the other just temporarily lost his creative agency in scintillating TikToks like this and his right to more than three daily phone calls.
What is Going On With Deshaun Watson's NFL Suspension?
That's right, Jackson Mahomes—the 22-year-old little brother of NFL golden boy, Patrick Mahomes—has been arrested and charged with three counts of aggravated sexual battery and a fourth count of battery. I know, I know. Siblings of professional athletes have been doing crimes and drawing public shame upon their families for years—hello, Jake Paul! This one, however, is of the more exceptionally egregious given his past exploits and particular brand of douchebaggery.
The charges stem from two alleged incidents at Aspens Restaurant and Bar Lounge in Overland Park, Kansas on Feb. 25, 2023. Mahomes, who—in addition to sharing DNA with his brother—is famous for "social media influencing" is accused of forcibly kissing the 40-year-old proprietor of said eatery, Aspen Vaughn. Heinous video footage appears to show Mahomes abruptly gripping Vaughn's neck and jaw from behind and kissing her for about six seconds before releasing his hold.
"He forcibly kissed me out of nowhere, and I'm telling him, pushing him off saying 'what are you doing?' and then he proceeded to do it two more times where the last time I was pushing him off and I can see on the cameras that somebody was outside the office door and I was yelling for them to come help because he's big and massive," Vaughn told the Kansas City Star. According to her account Mahomes, who was a frequent patron and a friend of her step-daughter's, was intoxicated. The alleged assault culminated in a bruise on Vaughn's throat, she told the publication.
Additionally, in another incident at the restaurant, Mahomes repeatedly shoved a 19-year-old waiter.
"We have provided law enforcement with the tools and evidence they need to evaluate the claims against Jackson," Mahomes' attorney Brandan Davies told USA Today at the time, seemingly denying the allegations. "Every interaction between people needs to be placed in the proper context. Releasing a short clip of any video does not provide proper context. We have faith in the process and look forward to a swift resolution of the matter."
However, these are hardly isolated incidents for Mahomes. In 2021, he dumped water on Baltimore Ravens fans, danced on a murdered NFL player's memorial, and publicly denounced a bar, SoT, after it was unable to seat him and his friends.
"The service is absolutely terrible and the bartenders are so rude," Mahomes bemoaned on Instagram. "I would not recommend!!!"
The bar's response, however, belongs in the Guggenheim: "We are sorry we could not seat your very large group. As you probably saw, our bar is very small," the since-deleted statement read. "We are sorry that you have the reach that you do, or at least that you think you do and that instead of using it for something positive you decided to use it to try and crush a small business. We survived a global pandemic, we'll survive your ego."
Naturally, the elder Mahomes has, in the past, been tasked with encouraging pardon for his little brother."He takes a lot and he's usually pretty good at it, and he'll learn from it and just try to stay away from those people as best he can," he said of fan backlash against his brother in 2021.
Well, staying away from people shouldn't be hard for Mahomes—at least for now. He's currently being held at Johnson County Detention Center on $100,000 bond and is set to be arraigned on Wednesday afternoon. Meanwhile, it's only a matter of time before his comedically serious "I'm here to set the record straight" TikTok drops.
Mahomes' attorney, Brandan Davies, did not immediately respond to Jezebel's request for comment.