The trailers for the space movie Passengers make it look like a galactic romcom version of Cast Away or Titanic where nothing interesting ever happens. Much of that first impression turns out to be true, according to film critics.
The movie, out December 21, stars Jennifer Lawrence and Chris Pratt as two pretty people who meet on a spacecraft called the Avalon that's drifting toward a new frontier, transporting thousands of passengers in hibernation mode until the ship reaches its destination in 120 years. An unforeseen event awakens Pratt's character, who makes the crude decision to wake up Lawrence's character as well for companionship. They're both forced to be space roommates facing certain death, which sounds like an easy set-up for a fascinating psychological take on the future of space travel from the perspective of two perfect strangers.
Reviews, however, say Passengers is not that great, and not even the star power is enough to save it from an overwhelming lack of depth. Yahoo! Movies' headline is "Plenty of Star Power, But the Space Drama Never Quite Soars." The Wrap calls it a "a thoroughly misguided rocket to nowhere." And IndieWire thinks it's a dumbed down "disaster" that "refuses to really wrestle with the compelling questions at its core, instead opting to lean on Lawrence and Pratt's collective charm to keep things ticking amiably along."
Entertainment Weekly gave the movie a sad D+ rating:
The signs to be hopeful were all there: A pair of dependable movie stars, a bullish Oscar-season spot on the release calendar, a director hot off of an Oscar-nominated film. But alas, Passengers is not very good. In fact, it's pretty bad. The studio is positioning this new Chris Pratt-Jennifer Lawrence sci-fi flick as a sort of Adam-and-Eve riff on The Martian. Two passengers on a space ship headed to a distant colony called Homestead II are woken up 90 years before they should be. Something with their hibernation pods goes wrong and now they're stranded together and alone. They have to figure out a way to survive – and if sparks fly while they're hurtling through space, well, all the better. That's the way the trailer makes it seem, at least. And I'll be honest, that's a movie I'd kind of want to see. But that's not what we get. Not even close. Passengers is way stupider than that.
G/O Media may get a commission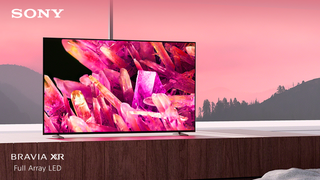 $400 off
Sony 55 Inch 4K Ultra HD TV X90K Series
Variety was less than impressed:
There isn't much to "Passengers" besides its one thin situation, and there are moments when the film could almost be "a very special episode of 'Star Trek,'" because Pratt, with his golden-boy smirk, has a Kirkian side, and the voyage they're on is grandiose yet amorphous (like the Enterprise's). The ship itself has a variety of chambers and communal spaces, but it all seems overly familiar and sterile. What's lackluster about "Passengers" isn't just that the movie is short on surprise, but that it's like a castaway love story set in the world's largest, emptiest shopping mall in space.
The Guardian gave it two out of five stars, writing:
...We, and the film, are rather obviously hanging on for the arrival of Lawrence to inject some of the highly marketable sass in which she now specialises. Here, though, is where things get tricky for Passengers. All the pre-release material – trailers, marketing trails and the like – suggest that Lawrence's character, a whimsical writer called Aurora Dunn, is woken in a similarly accidental way to Preston; or at least they wilfully gloss over the actual reason. For it turns out – and this isn't a twist or anything, but simply the character's introduction into the film – that she is deliberately woken up by Preston after he sees her asleep in her pod and then rummages through her personal files and videos in an interstellar version of social-media stalking.
Forbes, on the other hand, posits that the movie "works as flashy, adult-skewing popcorn entertainment that stands apart from the pack," and The Hollywood Reporter also cut the film a little slack:
Though they're clearly tough and resilient, no underlying sense of urgency or drive comes through, especially not in Pratt's even-keeled Mr. Fix-It. The necessary fire is missing from their chemistry, until Aurora's fury at discovering a crucial piece of information that Jim has been keeping from her.
See it at your own peril.