In a three-part reunion spent unravelling the fifth season of Bravo's Vanderpump Rules (a season during which we dealt with accusations of sleeping with married men, Tom Schwartz shitting on a toilet in drag, a homophobic, frosted-lipped mother from Kentucky, and the dreaded monster that has become of Katie Maloney), the confrontation between one-time couple Scheana and Shay was somehow the bleakest moment in a sea of torment.
When Scheana Marie married Shay in a cropped-top wedding dress during Season 3, even the dumbest among us were skeptical: "I have milk that has a longer shelf life than that marriage," Jax remarked a season later and while he wasn't exactly right (unless he drinks powdered or condensed milk), he wasn't entirely far off. The relationship, to anyone paying attention (including the viewing public) was doomed. Basically, Scheana was so desperate to get married that she tied the knot with a blank space of a man who, up until their vows, didn't seem to have a first name. Meanwhile, Shay (Michael Shay, actually) was struggling with hidden addiction issues that would put more and more of a strain on the relationship as Scheana continued to pressure him into keeping up with her lifestyle.
"I don't think I could ever be with someone who's completely sober, because that's not reality with the life I lead with my friends," she told cameras after Shay's pill addiction came to light Season 4. "What he needs to do is just sip. You don't have to drink to get drunk; drink to get a good buzz."
Eventually, resentment grew between these two terrible people. Shay felt that Scheana didn't really know or take the time to know him (true) and Scheana began to see Shay as a dull, unemployed leech sucking away at her bank account (also true). And so it all blew up and, though they tried to hide a lot of it from the cameras, it ended up on TV.
At the end of Season 5, after the equally doomed wedding of Katie and Schwartz (doomed not because they'll necessarily break up, but because they'll likely stay together and punish each other until death), Scheana filed for divorce. Monday night on the reunion, the estranged pair came face-to-face for the first time since and, by god Andy Cohen, was it ever dark—even by Vanderpump Rules standards.
G/O Media may get a commission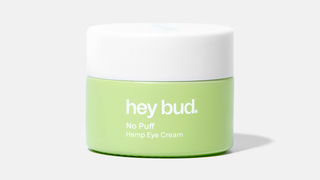 15% off
Hey Bud - No Puff Hemp Eye Cream
According to Scheana, the marriage fell apart three months after their wedding when she discovered Shay's addiction. Shortly before their first anniversary, she caught him sexting with another woman, something she says fans of Brandi Glanville—whose husband Scheana had a very public affair with—won't stop rubbing in her face. Shay argues it happened later, as Scheana became more wrapped up in celebrity and partying. Throughout the segment, Scheana—feeling "uncomfortable"—obsessively fixed her hair and makeup, causing a FAR too invested Lisa Vanderpump to scold, "Let it go, Scheana!"
The whole scene—in which Scheana also told Shay that she's been happily dating Rob Valletta (brother of model Amber Valletta) and Shay blamed her and Bravo for labeling him as a druggie—was witnessed by the rest of the Vanderpump cast whose expressive reactions mirrored our own:
In the end, Scheana and Shay left things on a peaceful note, making it doubtful that—other than throwing the occasional barb at each other in the press—these people who never appeared to have anything in common to begin with will ever have contact again.
But as for the rest of us, we'll never forget the romance between Scheana and his what's-his-face.