Some people get really eye-vessel-poppingly mad at The Rules (and its latest incarnation Not Your Mother's Rules) but that always seemed like a massive waste of energy to me. It's so dumb, how can you get mad? It's like that one aunt you have on Long Island who always gives you Lord & Taylor coupons so you can buy some "you know, adult woman clothes" and looks like you just did heroin at the dinner table when you mention you're dating a musician. In short, it is 100% too silly to take seriously. Best just to laugh and take the coupons, nahmsaying?
Anyway, I read Not Your Mother's Rules cover to cover, and here is a short list of the few pros offered by the latest (updated for etiquette of The Internetz) tome of Ellen Fein and Sherrie Schneider's Gestapo-esque heteronormative courting ritual/mind-fuck The Rules:
Unintentional hilarity.
A heretofore-unwritten disclaimer that the Rules applies specifically to women who choose to self-destructively pursue uninterested partners and often find themselves devastated, rather than women at large. When you look at it as a sort of "when you've hit rock-bottom" thing for a very niche sort of human who could emotionally benefit from it—taking away all the gender-normative crap and focusing on the idea that it could help people who come off as desperate and insecure—it's a lot less severe. They clarify in the chapter title: "Do Whatever You Want Before You're Ready To Do The Rules"
A section called "Hug Your Daughter and Other Rules For Mothers that might come off a little troll-esque and puritanical but generally offers good advice on how not to be a self-obsessed, withholding shit to your daughter so that she does not go looking for self-obsessed, withholding shits for life partners.
A helpful reminder from aforementioned daughters (who have their own nuggets of wisdom in these pages) that sometimes playing Scramble or Words With Friends with an ex is a bad idea. (In the enduring words of Dave Matthews, "I did it, GUILTY AS CHAAAARGED.")
That's about it for the pros. Onto the cons.
Mold self into Courtney Stodden:
"Most men prefer long straight hair." "Curly do's can look messy, while long stick-straight hair looks more like one of those luscious shampoo ads.""Premature grey hair should be colored immediately." "Try highlights or go blonde." "Long nails will make you feel like a goddess, and so will long eyelashes."
G/O Media may get a commission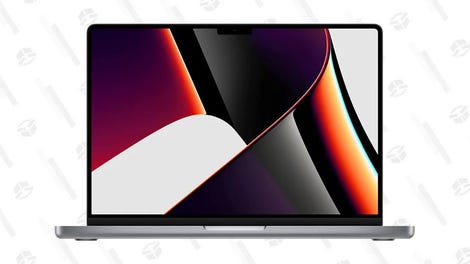 Save $300
2021 14" 1TB MacBook Pro
"Tops that show some cleavage." "Men don't care for flat shoes [...] They want you to look feminine, in heels as high as you can stand." "Three inch hoop earrings in silver or gold." "A chunky gold watch."
Perhaps most depressing paragraph ever written:
Sometimes [women] do The Rules by accident because they didn't really think they liked the guy and call us triumphantly to say 'I didn't do The Rules, and we're engaged. But just because it was by accident doesn't mean it's not The Rules. It's kind of like losing ten pounds without really trying because you had a stomach flu.
Good girls don't:
Don't ask a guy out. Don't text a guy first. Don't sit or stand next to a guy first or flirt with him first. There should be at least half an hour time lapse between response text messages (which LUDICROUSLY correlate to the woman's age.)*
*hey maura can u help me my house is on fire
maura
hello
WHAT OH SORRY I WAS JUST BUSY DOING AWESOME ACTIVITIES LIKE A REAL INDEPENDENT WOMAN
Have at it, y'all. Or don't. That might be a better idea.