Parker Posey, a woman responsible for some of the funniest characters in modern film, was decidedly unfunny Wednesday morning, when she posted a tasteless photo on her relatively new Twitter account.
Posey has spent the past few weeks experimenting with Snapchat—she saves her snaps and posts them on her Whosay (remember Whosay?) account. Some of them have been sort of charming, I guess. There's one of her covered in emojis. One of her as a dog, captioned "Barker Posey." There's even one in which she supports LGBT rights!
But just six days after claiming to be an ally, Posey shared a photo of herself using a new Snapchat filter that gives her a mustache, and captioned it "Insta-TransGender."
"I love the internet and can't believe what you can do here!" she added in the accompanying tweet.
G/O Media may get a commission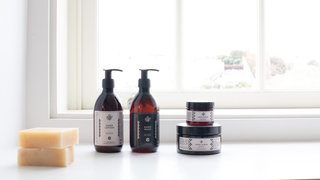 Exfoliate and Hydrate
The Handmade Soap Company
In a world where transphobic legislation is still being passed, and high-profile comedians still make Caitlyn Jenner jokes in front of millions, should it surprise us that someone would still think a joke like that is funny?
That "Insta-TransGender" could be typed out, resized, restyled, saved in one app, opened in another app, and uploaded to Twitter by the same person who claimed to be an ally just last week is an alarming reminder that our culture is further from acceptance and understanding of the transgender community than we'd like to think. Treating a person's gender identity as a joke does nothing but empower the people who treat it as a reason for violence. Give us more Barker Posey instead.
Image via Twitter.